FiveLac Caps | GHT - Global Health Trax | Super Effective & Unique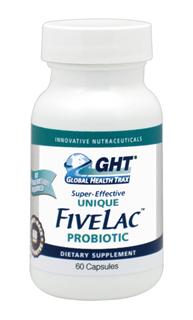 ---
Ingredients & Description
FiveLac Probiotic Capsules | Replenishing Friendly Intestinal Flora
With the development of FiveLac the question arises, is FiveLac better than ThreeLac?
The answer is complicated. ThreeLac is the revolutionary supplement providing optimum support and maintenance for a healthy digestive system. It uses three live bacteria: Bacillus Coagulans, Bacillus Subtilis, and Enterococcus Faecalis and is successful for millions of customers worldwide. FiveLac is a more powerful and enhanced formulation.
GHT has added two additional probiotic strains to its original formula, ThreeLac. The addition of the two new strains of probiotics in no way takes away from the original formula's effectiveness. We have only enhanced an already great product. Through development GHT discovered that there was an area for improvement in ThreeLac.
Rather than compromise ThreeLac's formula and change the product that countless satisfied customers have come to know, GHT developed something new and potentially better. FiveLac has two additional live bacteria that make its formula even more effective. FiveLac combines the three live bacteria in ThreeLac with Lactobacillus Acidophilus (supporting gastrointestinal function) and Bifidobacterium Longum (supporting the growth of friendly bacteria) ultimately providing the best support for a healthy digestive system.
Directions: Adults and children take 2-4 capsules per day
FiveLac Probiotic Active Ingredients
Bacillus coagulans: A probiotic organism that may help control occasional digestion and stomach problems.
Bacillus subtilis:A probiotic organism that may help crowd out "bad" flora in the intestines.
Enterococcus faecalis: Enterococci constitute a major genus within the lactic acid bacteria group that exists naturally in the human digestive tract. This effective probiotic bacteria is the result of formulation under strict laboratory conditions.
Lactobacillus acidophilus: These friendly bacteria inhabit the intestinal tract. The breakdown of nutrients by L. acidophilus produces lactic acid, hydrogen peroxide, and other by-products to enhance optimal intestinal flora.
Bifidobacterium longum: B. longum may help keep the digestive system running smoothly.
Supplement Facts
FiveLac Probiotic
Serving Size: 2 capsules
APS
%DV
Calories
2
Total Carbohydrate
.3 g
<1%
Sugars
0.1 g
Sodium
12 mg
<1%
Protein
0.2 g
<1%
Fiber
0.26 g
<1%
Vitamin C (as ascorbic acid)
90 mg
150%
Vitamin B1 (as thiamine)
.5 mg
34%
Vitamin B6 (as pyridoxine)
.4 mg
20%
Vitamin B2 (as riboflavin)
.28 mg
28%
Probiotic Blend
Bacillus coagulans (500 Million CFU), Bacillus subtilis (500 Million CFU), Enterococcus faecalis (500 Million CFU), Bifidobacterium longum (500Million CFU), Lactobacillus acidophilus (50 Million CFU).
Percent Daily Value (DV) not established.
Other Ingredients: Micro-Crystalline Cellulose, Refined Dry Beer Yeast Powder, Gelatin, Canola Oil, Silica, Caramel, Titanium Dioxide
Contains ingredients derived from milk and wheat. (Milk Protein 4 ppm; Gluten 30 ppm)
FIVELAC is Manufactured in Japan.
Benefits of Ideal Intestinal Micro-Flora
Friendly flora perform a number of constructive functions in the intestinal tract. One main function is to help prevent occasional good/bad flora imbalance. The "good" flora do this by crowding out the "bad" in the intestinal tract. Some common indicators of flora imbalance may be:
Melancholy
Anxiety
Irritability
Heartburn
Indigestion
Lethargy
Extreme food and environmental allergies
Lactose intolerance
Acne
Dry skin
Itching
Jock itch
Vaginal health
SKU: 104160
UPC: 104160
Distributed or manufactured from Global Health Trax. See more
Global Health Trax
products.
---
*Not intended to diagnose or treat diseases or ailments, and is not reviewed by the FDA.
Uses & Indications.
Supporting Friendly Microflora
Increasing Nutrient Absorption
Promoting Healthy Digestive And Immune Systems
Ailments & Concerns.