FiberTeq (540 g) - VPX Sports - Advance to the Next Level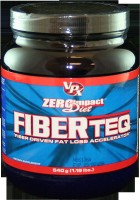 ---
Ingredients & Description
High fiber diets are now recommended by the National Academy of Sciences, the National Cancer Institute, and the Food and Nutrition Board. For over-all health and rapid fat loss, your nutritional strategy must include high fiber foods. VPX FIBERTEQ is a powerful weapon in the ZERO IMPACT DIET and a convenient way to benefit from the most complete and excellent source of fiber. FIBERTEQ can be mixed into ZERO IMPACT PROTEIN, ZERO CARB and DIETEX shakes or sprinkled on or mixed in with your favorite foods.
Suggested Use:
Always combine one scoop of FIBERTEQ with 8 to 12oz. Of liquid before consuming. Taking it without enough liquid can result in choking. Always begin use by taking half of the recommended serving size. Mix with ZERO IMPACT or ZERO CARB PROTEIN shake, water, or with your favorite beverage. always consume at least eight additional ounces of water for each serving. Take medications and fat/oil soluble vitamins/supplements an hour prior to or four hours after using.
Supplement Facts:
Serving Size 18g (1 Scoop) Calories 86 Calories from Fat 26 Total Fat 3g 6% Saturated Fat 0g 0% Trans Fat 0g Cholesterol 0g 0% Total Carbohydrate 13g 4% Dietary Fiber 8g 26% Sugars 0g 0% Protein 2g 4% Sodium 0g 0% Proprietary Blend 17,800mg Whole Ground Flax Seed Arabinogalactan Rice Bran Psyllium Husks Inulin Lecithin Fibersol-2 Apple Fiber Viable Bacteria 2,500,000 Lactobacillus Acidophilus Lactobacillus Casei Bifidobacteruim Infantis Percent Daily Values are based on a 2000 calorie diet
Other Ingredients:
You have reached FiberTeq on Seacoast.com from the manufacturer VPX Sports. We're proud to have served 1013 customers since 02/15/2010 who were also interested in purchasing FiberTeq. It currently ranks as our 0 most popular natural health product.
Technical FiberTeq Details: Locate this product using sku number or ISBN . For shipping, the weight is equal to 1.19 pounds and is currently out of stock. Typical inquiries include VPX Sports, and natural health. Seacoast Vitamins offers this product at a $6 discount off of the suggested retail price $25.9500. Our price is $19.95.
SKU: VPXFIBE540G0000PW
UPC: 610764840608
Distributed or manufactured from VPX Sports. See more
VPX Sports
products.