Fem-Dophilus - Jarrow Formulas - For Womens Internal Balance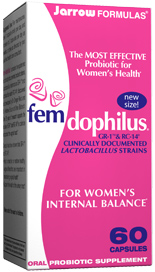 ---
Ingredients & Description
Fem-Dophilus® contains two patented and clinically documented probiotic strains, Lactobacillus rhamnosus GR-1® and Lactobacillus reuteri RC-14®, discovered and developed by Dr. Gregor Reid and Dr. Andrew Bruce at Urex Biotech. Over 20 years of research supports the oral use of GR-1® and RC-14® to colonize and protect the vaginal tract.*
Clinical trials have shown that GR-1® and RC-14®:
Fem-Dophilus® is manufactured under pharmaceutical GMP conditions with guaranteed potency and consistency. The probiotic strains in fem-dophilus® are in a proprietary polysaccharide matrix, which protects the bacteria from stomach acid and enhances probiotic bacteria survival to the lower intestine.*
Following is quoted from Prevention Magazine January 2008
Breakthrough that speeds treatment of vaginal infections
Probiotics--friendly bacteria that thrive in the body--are known to prevent or even cure yeast infections and bacterial vaginosis. Now there's an OTC supplement containing the two Lactobacillus strains documented to promote vaginal health. The probiotic pill Fem-Dophilus has erased up to 90% of vaginal bacterial infections and significantly reduced yeast growth in trials by coating the lining of vaginal tissues and producing acids that keep pathogens from gaining a foothold. When women take antibiotics, Fem-Dophilus doubles the drugs' effectiveness by recolonizing the vagina with healthy flora.
Help to maintain or restore healthy vaginal flora that are important in maintaining vaginal health*
Keep out of the reach of children.
Keep Refrigerated
Support the health of the urinary tract*
For maintenance, take 1 capsule orally per day and increase to 2 capsules per day as needed, or take as directed by your qualified health care consultant.

Other Ingredients: Dextrose anhydrate, potato starch, microcrystalline cellulose and magnesium stearate (vegetable source). Capsule consists of gelatin and titanium dioxide.
Contains: Dairy (casein, in trace amounts).
No wheat, no gluten, no soybeans, no egg, no fish/shellfish, no peanuts/tree nuts.
For Womens Internal Balance
Jarro-Dophilus Enhanced Probiotic System (EPS) s the best probiotic to promote healthy intestinal microflora and support immune function.
SKU: FEM60
UPC: 790011030300
Distributed or manufactured from Jarrow Formulas. See more
Jarrow Formulas
products.