Eyes Bright (Formerly Bright-Eyes) (75 tabs) - Futurebiotics - High Potency Nutrients & Herbs Supporting Eye Health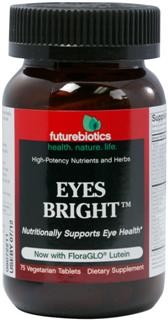 ---
Ingredients & Description
Age-related deterioration of eye health and increasingly poor vision affect millions of people annually. Antioxidants and other nutrients play a critical role in supporting and protecting good eyesight. Eyes BrightÃÂ is a comprehensive, high-potency antioxidant formula with vitamins, minerals, botanicals and FloraGLO® Lutein designed to nutritionally support eye health.*
Employing a vast array of well-established and highly researched nutrients, Eyes BrightÃÂ supplies a full-spectrum of nutritional factors to help counter the effects of oxidative stress and help maintain ocular health.
Eyes BrightÃÂ contains nutrients such as Beta-carotene, vitamins C and E and Zinc that have been shown to be effective in multiple well-respected clinical studies. Lutein is a powerful, natural carotene. Carotenoids are a family of compounds abundantly found in fruits, vegetables, and green plants and are the predominant chemicals that create their vibrant colors. There are more than 600 known carotenoids in nature. However, only about 20 are found in humans. Lutein is one of the carotenoids found in humans, where it is found in the macula and lens of retinal tissue responsible for filtering out high energy UV light and protecting the delicate surface of the retina.
Sourced from marigold flowers and purified from marigold flower oleoresin, FloraGLO® Lutein is the world's leading patented, purified Lutein. Eyes BrightÃÂ provides 5 mg of FloraGLO® Lutein per daily dose. Eyes BrightÃÂ is further supported with an array of botanicals and other nutrients, including Eyebright herb, Rosemary, Chamomile, Citrus Bioflavonoids and Rutin. And, Eyes BrightÃÂ is potency enhanced with Futurebiotics exclusive BioAcceleratorsÃÂ.
Clinically-proven Bioperine® (Piper nigrum extract) improves nutrient bioavailability, while our proprietary natural compound of Lactospore® probiotics, Ginger root extract, Trikatu and super-potent Digezyme® digestive enzymes help boost digestion and nutrient absorption.
Eyes BrightÃÂ is a vegetarian supplement.
Glass packaging extends natural freshness and helps maintain product potency.
Suggested Use:
As a dietary supplement for adults, take 3 tablets daily or as directed by a healthcare professional. To achieve optimal results, it is important to take Eyes Bright every day.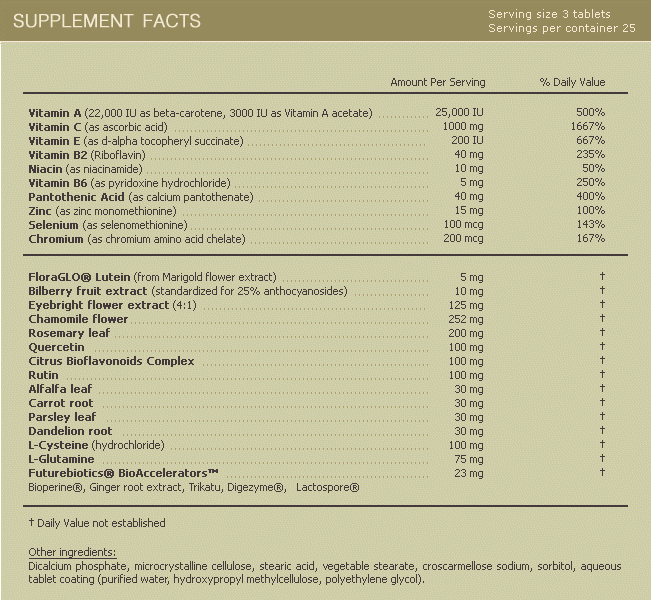 Warning:
Do not use if you are pregnant or nursing.
SKU: SN0407866 /FB0092
UPC: 49479002009
Distributed or manufactured from Futurebiotics. See more
Futurebiotics
products.
---
*Not intended to diagnose or treat diseases or ailments, and is not reviewed by the FDA.
Uses & Indications.
FloraGLO Lutein
Comprehensive Multi-Ingredient Formula
Includes Futurebiotics Exclusive BioAccelerators
Nutritionally Supports Eye Health
Ailments & Concerns.