Extra Strength Natural Pain Relief Evening Crme (2 oz) - BioEntopic - Penetrating Liposomes Carry Ingredients Quickly and Effectively to Deliver Relief of Arthritic/Muscular Pain, Backaches and other Discomforts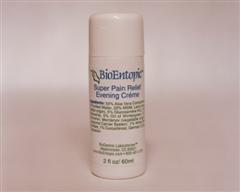 ---
Ingredients & Description
You may wish to try the products from Libido Edge Labs, which are thoughtfully formulated from high quality ingredients.
Extra Strength Natural Pain Relief Evening Crème (2 oz)
Natural Winter Green Oil Scent 2 oz/ 120 ml
All-natural evening créme with penetrating liposomes to carry ingredients quickly to arthritic/muscular pain, backaches, sport/accident related strains, contusions and sprains.
50% Aloe Vera - Anti-microbial and anti-inflammatory.
20% MSM - Methylsulfonymethane is a naturally occurring substance found in many foods and the human body. It is effective at boosting immune function, as well as relieving muscle and joint pain. It has been reported that arthritic patients given MSM experienced substantial symptom relief.
5% Boswellin Extract - Boswella has anti-inflammatory and anti-arthritic action. It does not produce an analgesic effect but reduces inflammation, which is the main cause of pain. Boswella reduces swelling, morning stiffness, increases mobility and reduces arthritic pain.
5% Glucosamine HCL - For years, glucosamine has been used on race horses for joint and ligament damage. Cartilage and connective tissue contain a concentration of glucosamine. The Arthritis Today magazine released information that glucosamine gave pain-relieving qualities similar to NSAID without the serious side effects.
5% Oil of Winter Green - Analgesic.
5% Camphor - Analgesic.
1% White Willow Bark Extract - Pain reliever. Aspirin was discovered and synthesized from white willow bark.
1% Curcumin - Anti-inflammatory.
Capsaicin (0.025%) - The FDA recognizes capsaicin as a pain reliever at levels of 0.025%
Suggested Use:
Gently rub in a thin coat of crème to the affected area. May be used during the day. Repeat four times or more daily. Avoid eyes, lips, inflamed or broken skin, open wounds and mucus membrane. If symptoms persist, consult a health professional. Do not use during pregnancy or lactation.
Ingredients:
50% Aloe Vera Concentrate in Purified Water, 20% MSM, Lanol (vegetable origin), 5% Glucosimine HCL, 5% Boswellia, 5% Oil of Winter Green, 5% Champhor, Montanov (vegetable origin), Liposome Carrier System, 1% White Willow Bark , 1% Curcuminoid, Germall, 0.25% Capsaicin
No Colors, Dyes, Fragrances, Mineral Oil, Alcohol, TEA, Propylene Gylcol or Parabens.
This product contains large amounts of high quality herbal extracts that may alter the product color and vary the color from batch to batch. This in no way affects the potency or quality of the product.
SKU: EveningPain
UPC: none
Distributed or manufactured from BioEntopic. See more
BioEntopic
products.