Estrotone (60 soft gels) - New Chapter - Herbal Hormonal Balance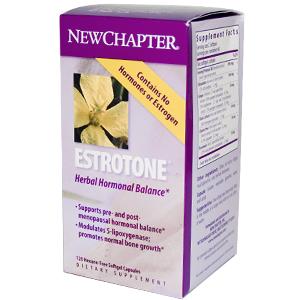 ---
Ingredients & Description
Supports pre- and post- menopausal hormonal balance
Modulates 5-lipoxygenase and promotes normal bone growth
New Chapter has extensively researched the herbal pharmacopoeia and international medical databases and discovered that the following time-tested herbs, properly extracted and blended in the correct proportions, contain multiple phytoestrogens and phytonutrients that safely promote a womanÃÃÂÂÃÂs hormonal balance and vitality:
EVENING PRIMROSE A rich source of EFAs valuable in maintaining hormonal health, in their purest, solvent-free supercritical form.
SCHIZANDRA Treasured Oriental fruit aids liver detoxification and traditionally revered for promoting normal fluids for healthy sexual functioning.
GINGER Counters a wide range of inflammatory compounds, offers many anti-aging constituents that inactivate disruptive free radicals.
BLACK COHOSH Europe's most popular phytoestrogenic balancing tonic, fullest spectrum and highest potency available.
CHASTE TREE Scientifically shown to promote hormonal balance, assisting women through all the changes of life.
ROSEMARYNature's rich source of anti-aging constituents, including phytonutrients that optimize memory.
Suggested Use:
One softgel, two times daily. Take in the middle of a larger meal with an 8 oz. glass of water.
For optimal multi-vitamin and mineral support, we recommend New Chapter Organics Every Woman II Probiotic NutrientsÃÃÂÂÃÂ made with organic ingredients.
Supplement Facts
Estrotone
Serving Size:2 soft gels
APS
%DV
Evening Primrose Oil (Oenothera biennis) (seed) supercritical extract
200 mg
ÃÃÂÂÃÂ
Schizandra, (wu-wei-zi) (berry), extract (2% schizandrins 3.2 mg)
160 mg
ÃÃÂÂÃÂ
Ginger, (rhizome), 27 mg supercritical extract, (30% pungent compounds -8.1 mg, 8% zingiberene- 2.1 mg) and 23 mg ethanolic extract (3% pungent compounds- 0.7 mg).
50 mg
ÃÃÂÂÃÂ
Black Cohosh, (root & rhizome), extract (8% triterpene glycosides 3.2 mg)
40 mg
ÃÃÂÂÃÂ
Chaste tree, (Vitex agnus-castus), (berry), extract (0.6% aucubin- 0.2mg)(0.5% agnuside- 0.2mg)
40 mg
ÃÃÂÂÃÂ
Rosemary, (leaf), supercritical extract (23% total phenolic antioxidants- 2.3mg)
10 mg
ÃÃÂÂÃÂ
*Daily Value not established.
Other ingredients: Olive oil-extra virgin, maltodextrin, yellow beeswax, and organic sunflower oil..
Capsule: Gelatin, vegetable glycerine, water, and carob..
Naturally gluten free.
Warnings: As with any dietary or herbal supplement, you should advise your health care practitioner of the use of this product. If you are nursing, pregnant, or considering pregnancy, taking birth control pills, or have experienced severe or excessive uterine bleeding, you should consult your health care practitioner prior to using this product. Persons with gallstones should consult their health care practitioner prior to use.
SKU: 4045
UPC: 7 27783 04045 9
Distributed or manufactured from New Chapter Nutrition. See more
New Chapter Nutrition
products.