Epozine-O2nt (180 ct) - BSN - Anabolic Mediator & Ergogenic Plasma Volumizer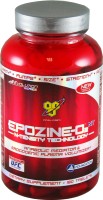 ---
Ingredients & Description
EPOZINE-O2NT is a revolutionary anabolic mediator & ergogenic plasma volumizer. Designed to promote superior physical performance & endurance, blood-volumizing plasma expansion, and significantly greater increases in lean muscle mass, EPOZINE-O2NT is an athlete's answer to myocellular (muscle) growth and expansion. These myocellular increases are mediated by enhancing maximal oxygen uptake capacity, delivery and consumption and increasing erythropoietin and red blood cell count, all the while accelerating protein synthesis and myohypertrophic activation via promotion of a positive nitrogen balance. EPOZINE-O2NT is the next-generation key to unlocking your muscular evolution."
Suggested Use:
" Healthy persons seeking to support or enhance lean muscle, physical performance, and recovery.* RECOMMENDED USE FOR PERSONS UNDER 200 LBS: As a dietary supplement, take 3 tablets 3 times per day, every day. Always take EPOZINE-O2NT EVOLUTION SERIES on an empty stomach (i.e. approximately 30-45 minutes before meals or 2 hours after a meal). Taking EPOZINE-O2NT EVOLUTION SERIES with food or on a full stomach may diminish its effects. Take the first 3 tablets in the morning upon rising, the second 3 tablets before lunch, and the third 3 tablets before dinner. RECOMMENDED USE FOR PERSONS OVER 200 LBS: Follow the same guidelines as above, but take 4 tablets 3 times per day, every day, on an empty stomach."
Supplement Facts
Epozine-O2nt
Serving Size:3 tablets
APS
%DV
Niacin (Vitamin B3)
12 mg
60%
Folate (Folic Acid)
30 mcg
8%
NITROS10 (Nitric Oxide Matrix)*
2.4g **
L-Arginine Alpha-Ketoglutarate, L-Norvaline, Gamma-Butyrobetaine Ethyl Ester, L-Citrulline-Malic Acid Matrix, L-Arginine Aspartate, L-Arginine Pyroglutamate, Magnesium Tanshinoate B (MTB), L-Arginine Ethyl Ester DiHCL, L-Histidine, Folate
CRTS2 (Controlled Release Technology & Support System)*
2.2 g**
Hydroxypropyl Methylcellulose (A Micro-Polymer Hydrophilic Matrix)
MYOGENIC ENDURA SHOT*
**
Beta-Alanine (CarnoSyn), Creatine-Sodium Phosphate Matrix, Creatinol-O-Phosphate, Creatine Magnesium Chelate (Magna Power), 6-Methyluracil, Adenosine 5'Triphosphate Disodium (PEAK ATP), Niacin, NAD (Nicotinamide Adenine Dinucleotide)
OXYGEN CAPACITY COMPOSITE*
**
Di-Calcium Phosphate, Di-Potassium Phosphate, Di-Sodium Phosphate, Cytidine 5'monophosphate, Uridine 5' monophosphate, Guanosine 5'monophosphate, Adenosine 5' monophosphate, Inosine 5'monophosphate, Inositol Hexaphosphate
ANABOLIC RED MASS INTERFUSION*
**
Purple Coneflower (leaf) (2% Polyphenols), Barbary Wolfberry (fruit & leaf), Membranous Milk Vetch (root) (.3% Astragalosides), Chinese Angelica (root) (.1% Ligustilide), White Peony Root Extract, Purslane (aboveground parts) (5% Flavones)
INSULINO-MIMETIC MATRIX*
**
Cinnulin PF (Cinnamon Extract) (bark), Banaba (leaf) (18% Colosolic acid), Bis-Glycinato-Oxovanadium (BGOV), Bis-Picolinate-Oxovanadium (BPOV)
**Daily Value (DV) Not Established.
Other Ingredients:Stearic Acid, Calcium Silicate, Magnesium Stearate, Microcrystalline Cellulose, Hydroxypropyl Methylcellulose, Silica, Triacetin, and FD&C Red#40. Cinnulin PF is a registered trademark of Integrity Nutraceuticals, Inc and licensed under Patent #7,504,118. Natural Alternatives International (NAI) is the owner of patents 5,965,596; 6,172,098; 6,426,361; 6,680,294; and registered trademark CarnoSyn. Creatine (Magna Power) is a registered trademark of Albion Laboratories, Inc. and covered by U.S. Patent 6,114,379 and patents pending. PEAK ATP is a registered trademark of TSI Health Sciences, Inc. and covered by U.S. patents 5,049,372; 5,227,371; 6,723,737 & U.S. patent application 10,162,143.
Warnings:
Allergen Warning: Manufactured on equipment which processes products containing milk, egg, soybeans, shellfish, fish, tree nuts and peanuts.
"NOTE: Do not take glutamine supplements and EPOZINE-O2NT EVOLUTION SERIES at the same time as doing so may diminish its effects. Keep intake of glutamine supplements to 10g or less of glutamine daily. To maximize the vaso-muscular volumizing effects take EPOZINE-O2NT EVOLUTION SERIES 3 times per day, every day.* Also consume 120 oz. of water per day and a diet that is rich in protein and carbohydrates. Your body chemistry and weight will determine how long it takes to experience the effects of EPOZINE-O2NT EVOLUTION SERIES. Warnings: Before consuming EPOZINE-O2NT EVOLUTION SERIES seek advice from a physician if you are unaware of your current health condition, planning any medical procedure or have any pre-existing medical condition including but not limited to: high or low blood pressure, cardiac arrhythmia, stroke; heart, liver, or thyroid disease; anxiety, depression, seizure disorder, psychiatric disease, diabetes, pernicious anemia, difficulty urinating due to prostate enlargement, or if you are taking an MAO inhibitor or any other medication. Do not use if you are contemplating pregnancy, pregnant, nursing, prone to dehydration, or exposed to excessive heat. Discontinue at least 2 weeks prior to surgery. Reduce or discontinue use if excessive sweating, chills, sleeplessness, tremors, dizziness, nervousness, headaches, heart palpitations or excessive bleeding occur. Combining EPOZINE-O2NT EVOLUTION SERIES with alcohol may increase the risk of low blood pressure (hypotension) and/or low blood sugar (hypoglycemia) particularly in the fasted state. Please be aware this product contains the naturally occurring amino acid Beta-Alanine, which may cause a tingling skin sensation in some individuals similar to niacin flush. This effect should diminish after a few hours and should ultimately subside after days of continuous use. Although rare, individuals with the genetic disorder hyper Beta-Alaninemia should not use this product. EPOZINE-O2NT EVOLUTION SERIES is only intended to be consumed by healthy adults 18-50 years of age. Keep out of reach of children and pets. Use only as directed. Store in a dry place away from direct sunlight."
SKU: BSNNEPOZ01800000TB
UPC: 834266005505
Distributed or manufactured from BSN. See more
BSN
products.