EPA 18 | EFA Gold | Nature's Way | 100 caps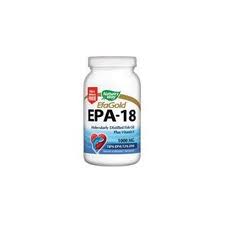 ---
Ingredients & Description
Fish oil has been shown in studies to offer multiple health benefits. Nature's Way EPA 18 | EFA Gold is the maximum quality cold-water distilled fish oil and is guaranteed to have 18% EPA (eicosapentaenoic acid ) and 12% DHA (docosahexaenoic acid). The Omega 3 fatty acids in fish have been recognized for their ability to promote cardiovascular health. EPA and EFA can help to prevent coronary heart disease. Omega 3 fatty acids also work to support healthy skin, eyes, joints, and brain function. The Omega 3 fatty acids found in Nature's Way EPA 18 | EFA Gold promote overall health and wellness. They can help to regulate blood pressure and cholesterol levels, improving total heart health. Omega 3 fatty acids have also been shown to relieve joint pain and prevent the onset of arthritis. They can provide relief from autoimmune disorders, depression, and migraines. Omega 3 fatty acids increase memory and cognitive abilities.
The heart health benefits of EPA 18 | EFA Gold cannot be overstated. EPA and DHA consumption lowers triglycerides and the incidence of heart attacks and stroke in people with cardiovascular disease. It also reduces the risk of death and atherosclerotic plaque (buildup in the arteries), as well as abnormal heart rhythms. Nature's Way EPA 18 | EFA Gold is mercury and PCB free. It contains no chemical solvents, sugar, starch, artificial flavors, colors, or preservatives. Enjoy the many health benefits and feel great with Nature's Way EPA 18 | EFA Gold. Always consult with your physician before taking any new medication or supplements.
Benefits:
Promotes cardiovascular health
Supports healthy brain function and memory
Health skin
Relieves joint and arthritis pain
Improves overall health
Directions: Take 2 softgels 2 to 3 times daily.

Ingredients: Vitamin E 20 IU 67%, Fish Oil 2 g (2000 mg), Omega-3 Fatty Acids 600 mg, Eicosapentaenoic Acid (EPA) 360 mg, Docosahexaenoic Acid (DHA) 240 mg.
Alive Multi Vitamin from Nature's Way is the complete daily multivitamin containing the best ingredients from whole-food sources.
SKU: 15433
Distributed or manufactured from Nature's Way. See more
Nature's Way
products.