EndorphiGen | LIDTKE | Controlling Common Pain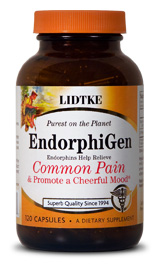 ---
Ingredients & Description
Endorphins help relieve common pain and cravings and promote a cheerful mood.
Pharmaceutically Pure D-Phenylalanine.
Hypoallergenic, gluten free.
In a unique way, EndorphiGen boosts endorphin levels and provides the many benefits of endorphins. EndorphiGen is used in recovery clinics specifically to relieve unhealthy cravings for foods and substances. Endorphins also are known to help relieve pain and promote a cheerful mood. Endorphins help to speed recovery from common aches, and they increase the cardiovascular benefits of exercise.
Endorphins have been shown to help:
Control common pain
Control the craving for potentially addictive substances
Control feelings of stress and frustration
Regulate the production of growth and sex hormones
Enhance the benefits of acupuncture
Supplemental Facts: