Driven Pre Workout Supplement | Metabolic Resposne Modifiers | High Energy + Fitness Formula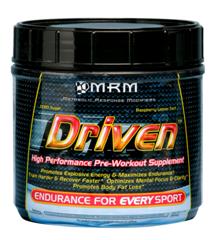 ---
Ingredients & Description
Driven increases energy, provides explosive power, maximizes focus and concentration, and amplifies endurance levels so you can train and compete with more intensity. This scientifically developed formula promotes faster recovery resulting in increased speed, strength, and lean muscle growth allowing you to train successively harder each day.
Driven is a high performance pre-workout supplement intended to provide explosive energy in a delicious raspberry lemon tart flavor. A well balanced, nutrient-packed formula, Driven maximizes energy, endurance, focus, and power allowing one to train with more vim and vigor. Scientifically developed, Driven not only enhances stamina but also promotes the speedy recovery of tired muscles, ligaments, and virtually all areas of the body affected by rigorous exercise. Driven is the first pre-workout "cocktail" formulated to boost the body's metabolic responses, encouraging that "second wind" when working out or in training.
Designed with the aid of qualified scientists specializing in fitness, Driven's synergistic ingredients work within the body to promote the burning of excess body fat while increasing lean muscle mass and improving muscle tone, in addition to reducing the accumulation of Lactic Acid, the most common culprit behind sore, tired muscles. Driven is not to be confused with a mere "energy" drink, one to keep you awake during crunch times. Driven is a serious high energy, high performance supplement designed for athletes and those serious about health and fitness who maintain well planned exercise routines.
Benefits:
Increases Energy, Stamina & Endurance
Stimulates & Speeds Fat Loss
Reduces Lactic Acid Build-up
Speeds Recovery Time
Promotes Intense Workouts
Enhances Mental Focus & Clarity
Promotes Lean Muscle Mass
Maximizes Oxygen Delivery + Aerobic Energy
Optimizes Hydration Levels
Supplement Facts

Serving Size: 2 scoops (12.5 g) Please note weight:serving ratios ON container

Servings Per Container: 40

Amount Per Serving

% DV

Calories

48

Total Fat

0 g

0%

Total Carbohydrates

6 g

2%

Sugars

0 g

Cholesterol

0 mg

0%

Protein

0 g

0%

Chloride (as sodium chloride)

121.5 mg

3.5%

Calcium (as calcium diphosphate)

112.5 mg

11.25%

Phosphorus (as calcium diphosphate)

86.5 mg

8.5%

Sodium (as sodium chloride)

78.5 mg

3%

Potassium (as L-potassium aspartate)

49.5 mg

1.25%

Vitamin C (as ascorbic acid)

125 mg

209%

Vitamin B5 (as Pantothenic acid)

50 mg

500%

Niacin (as niacinamide)

20 mg

100%

Vitamin B6 (as Pyridoxine HCI)

10 mg

500%

Vitamin B12 (as methylcobalamin)

50 mcg

833%

Labee Matrix- Lactic Acid Buffer, Endurance Extender Citrulline Malate, Dimethylglycine & Endosine†

2,000 mg

**

FFBE Matrix- Focus/Fat Burning/Energy Acetyl-L-Carnitine, L-Tyrosine, Alpha-glycerol phosphatidyl choline, & Caffeine (150 mg)

1,775 mg

**

L-Glutamine

1,000 mg

**

KCM Matrix- Krebs Cycle Manipulator L-Asparagine &L-Potassium Aspartate & Peak ATP††

750 mg

**
Other Ingredients: Maltodextrin/Glucose Plymer Blend, Red Beet Pwder, Natural Flavors & Sucralose
Warnings: Keep out of reach of children. If you are pregnant or nursing, under the age of 18, have a medical condition or are taking a prescription drug, consult your physician before using this dietary supplement. If safety seal is broken do not use. Store in a cool, dry, dark place.
---
*Not intended to diagnose or treat diseases or ailments, and is not reviewed by the FDA.
Uses & Indications.
Burning Fat
Building Muscle
Increasing Stamina
Relieving Pain
Improving Focus
Improving Muscle Tone
Increasing Energy
Ailments & Concerns.
Poor Muscle Tone
Lack Of Focus
Fatigue
Low Stamina
Muscle Pain