Dietex Caps (60 capsules) - VPX Sports - Advance to the Next Level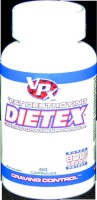 ---
Ingredients & Description
The Dietex formula is based around a rare botanical that grows deep inside the African Kalahari desert. This medicinal herb, called Hoodiax, has been proven to cause massive weight loss in two double blind South African studies with rats and strikingly similar results of powerful appetite suppression and weight loss in human beings in Europe. Hoodiax is 10,000 times more biologically active than glucose to induce the release of brain chemicals and hormonal responses that control hunger. By controlling these chemicals, DIETEX is instrumental in reducing and even totally eliminating the desire for food. A whopping 64% of Americans are overweight and we have the highest incidence of obesity in the world. Americans are so desperate to control our appetites that we are having our stomachs stapled and utilizing all kinds of radical surgeries to control the damage caused by overeating. However, all of that might be in the past, as we now appear to have a great weight loss aid called Dietex. While Hoodiax alone is simply amazing at controlling the appetite, VPX decided to combine it with another incredible compound called Sceletix. Sceletix acts as a serotonin re-uptake inhibitor to make you feel great even though you have eaten far less than you normally do. The actions of Sceletix also balance brain chemicals to control food addictions.
Suggested Use:
For faster results, take one to two servings of DIETEX two times per day for the first five days. Then, consume one to two servings everyday there after. This front end loading phase will yield higher levels of DIETEX'S powerful craving control ingredients in the body. because each person's genetics and body chemistry is different, allow five full days for DIETEX to take effect. DIETEX works to control appetite immediately for some individual, however others may take up to five days to experience DIETEX'S potent craving control effect. Drinking a ZERO CARB or ZEROTEIN protein shot (by vpx) upon rising will also help to curb cravings and aid in the maintenance of lean muscle and reduction of body fat. Nothing is as potent or works faster than DIETEX.
Supplement Facts:
Serving Size 2Capsules Calories 0 Total Carbohydrates 0g 0% Sugars 0g 0% Total Fat 0g 0% Saturated Fat 0g 0% Unsaturated Fat 0g 0% Hoodiax 800mgs Proprietary Blend 50mgs Sceletix N-acetyl-L-tyrosine 18 Beta-glycyrrhetinic Acid Evoburn Percent Daily Values are based on a 2000 calorie diet
Other Ingredients:
gelatin, cellulose
You have reached Dietex Caps on Seacoast.com from the manufacturer VPX Sports. We're proud to have served 1657 customers since 02/15/2010 who were also interested in purchasing Dietex Caps. It currently ranks as our 0 most popular natural health product.
Technical Dietex Caps Details: Locate this product using sku number or ISBN . For shipping, the weight is equal to 0.16 pounds and is currently out of stock. Typical inquiries include VPX Sports, and natural health. Seacoast Vitamins offers this product at a $3.7 discount off of the suggested retail price $32.9500. Our price is $29.25.
SKU: VPXSDIET00600000CP
UPC: 610764021069
Distributed or manufactured from VPX Sports. See more
VPX Sports
products.