Diet-Metabo-7 - Source Naturals - Balanced Approach to Weight Loss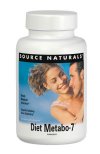 ---
Ingredients & Description
supports seven major body systems involved in healthy and successful weight loss, without the over-stimulation associated with other diet products. It contains effective and naturally occurring metabolic activators and calming neurotransmitters for a balanced approach to weight loss when used in conjunction with the enclosed Maximum Metabolism Weight Loss Plan(TM).
Supplement Facts
Diet-Metabo-7
Serving Size:3 tablets
APS
%DV
Aloe Vera Concentrate (200:1)
30 mg
0
Yerba Mate Leaf Extract 8% Yielding 20 mg of caffeine
250 mg
0
Calories
10
Vitamin C (as ascorbic acid)
80 mg
133%
Niacinamide
30 mg
150%
Vitamin B-6 (as pyridoxine HCl)
30 mg
1,500%
Iodine (from kelp)
100 mcg
67%
Chromium (as picolinate & polynicotinate [ChromeMate(r)])
400 mcg
333%
Sodium
5 mg
<1%
Potassium (as potassium citrate)
20 mg
1%
Guarana Seed Extract 22% Yielding 236 mg of caffeine
1.07 g
0
Phenylalanine (as L- & DL-phenylalanine)
500 mg
0
Black Pepper Fruit Extract (Bioperine(r))
3 mg
0
Bupleurum Root Extract (5% saikosaponins)
15 mg
0
Gymnema Leaf Extract (25% gymnemic acid)
400 mg
0
Bladderwrack Leaf Extract (4:1)
30 mg
0
Dandelion Leaf Extract (4:1)
10 mg
0
Green Tea Leaf Extract 20% Yielding 6 mg of caffeine
12 mg
0
Gentian Root Extract (5:1)
30 mg
0
N-Acetyl Cysteine
30 mg
0
Ginger Root Extract (4:1)
30 mg
0
GABA (gamma-aminobutyric acid)
400 mg
0
Ginkgo Leaf Extract (50:1) 24% Flavoneglycosides
30 mg
0
Guggul Extract (standardized to 95% guggulsterones E&Z)
3 mg
0
Kola Nut Extract 20% Yielding 10 mg of caffeine
50 mg
0
Dandelion Root Extract (4:1)
50 mg
0
Horse Chestnut Extract 20% Yielding 14 mg Aescin
70 mg
0
L-Tyrosine
100 mg
0
Acetyl L-Carnitine
150 mg
0
Glutamine
200 mg
0
Other Ingredients:stearic acid, modified cellulose gum, and colloidal silicon dioxide.
Contains wheat/gluten and tree nuts (kola nut).
Notes:DO NOT EXCEED DIRECTED DOSAGE. Each tablet contains approximately 90 mg of naturally occurring caffeine, which is 1 1/2 the amount in one cup of coffee. Contains phenylalanine and tyrosine. Not to be used by phenylketonurics. Do not use if you are pregnant, may become pregnant, breastfeeding, or taking any form of prescription nitrate such as nitroglycerin. If you have high blood pressure, heart or thyroid disease, diabetes or hypoglycemia, glaucoma, seizure disorder, difficulty urinating due to prostate enlargement, or taking Interferon, antidepressant drugs such or MAO or SSR inhibitors, or any other prescription drug, consult your physician before using this product. Reduce or discontinue use if nervousness, rapid heart beat, sleepness, nausea or other similar symptoms occur.
Not intended for use by persons under the age of 18.
Keep out of the reach of children.
Do not use if either tamper-evident seal is broken or missing.
SKU: SN1268
UPC: 021078012689
Distributed or manufactured from Source Naturals. See more
Source Naturals
products.