DefendAir on the go packets - Trace Minerals Research - Special Formula Of Antioxidants, 1,000 Mg Of Vitamin C, 8 Herbal Extracts, Amino Acids & ConcentraceTrace Minerals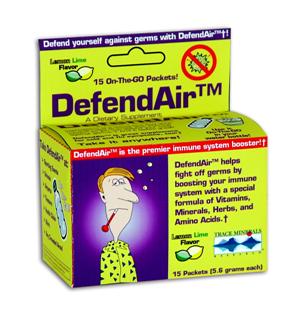 ---
Ingredients & Description
DefendAir helps optimize your bodys natural defenses by boosting your immune system with a special formula of Vitamins, Minerals, Herbs, and Amino Acids.
DefendAir is a convenient, great-tasting fizzy drink mix that helps optimize your bodys natural defenses by boosting your immune system with a special formula of Antioxidants, 1,000 mg of Vitamin C, 8 herbal extracts, Amino Acids, and ConcenTrace® Trace Minerals with no artificial colors, flavors, or preservatives!
Use it On-The-Go in your water bottle!
Take DefendAirÃÂ at: Sporting Events, Schools, Airports, Theaters, Health Clubs, Work, Any Crowded Area! DefendAirÃÂ helps boost healthy immune function during the harsh winter season! Also includes over 72 ionic trace minerals and elements from ConcenTrace®, an ionic mineral complex that supercharges the other nutrients in the formula for greater absorption and assimilation..
Suggested Use:take one packet daily or as needed at mealtime. May be used in hot or cold water.
Directions for use:: open packet and place contents in 6-8 ounces of water. Allow mix to dissolve and drink. May repeat after 3-4 hours, but no more than 3 times per day. Children under 12, take ½ packet. Consult a medical professional before taking this product if you are pregnant or breastfeeding or if you have any medical conditions.
Supplement Facts
DefendAir
Serving Size:1 packet
APS
%DV
Calories
5
Sugars
2.5
Vitamin A (as Retinyl Palmitate)
2000 IU
0.4
Vitamin C (as Ascorbic Acid)
1000 mg
16.67
Vitamin E (as d-alpha Tocopherol)
30 IU
100%
Riboflavin (Vitamin B2)
3 mg
176%
Magnesium (as Oxide)
40 mg
0.1
Zinc (as Sulfate)
10 mg
0.67
Selenium (as Chelate)
15 mcg
0.21
Manganese (as Citrate)
3 mg
1.5
Sodium (Bicarbonate)
132 mg
0.06
Potassium (Citrate)
75 mg
0.02
Proprietary Herbal Blend
350 mg
**
Lonicera (Honeysuckle), Forsythia (Fruit), Ginger (Rhizome), Bilberry Fruit Extract, Chinese Vitex (Fruit), Echinacea (Root), Isatis, Elderberry Fruit Extract.
ConcenTrace® Sea Mineral Blend
100 mg
**
Amino Acid Blend
50 mg
**
Glutamine (as L-Glutamine) & Lysine (as L-Lysine HCl).
Boron (Amino Acid Chelate)
10 mcg
**
*Daily Value (DV) based on a 2,000 calorie diet. **Daily Value not established.
Other Ingredients: Crystalline Fructose, Citric Acid, Sodium Bicarbonate, Ionic Sea Minerals, Stevia Extract, Natural Lemon & Lime Flavors.
Celery Seed Extract is widely used as an effective diuretic, as well as a dietary supplement to help improve circulation and heart health.
SKU: DFA02
UPC: 878941001581
Distributed or manufactured from Trace Mineral Research. See more
Trace Mineral Research
products.