DDS Acidophilus Powder (5 billion CFU/g 2.5 oz)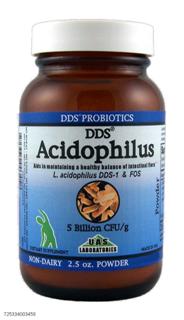 Choose different size or options :
---
Ingredients & Description
UAS Labs - World's Leading Probiotic Manufacturer since 1979
DDS Acidophilus Powder - Non-Dairy Aid in Maintaining a Healthy Balance of Intestinal Flora
DDS® - Acidophilus is the source of a special strain of Lactobacillus acidophilus (DDS®-1 strain) and Fructooligosaccharides. DDS® - Acidophilus is free of dairy products, corn, soy, and preservatives.
POTENCY: Each gram (1/4 teaspoon) contains 2 billion viable Lactobacillus acidophilus (DDS®-1 strain) at the time of manufacturing.
Poor digestion, yeast infections, acne and fatigue are just a few problems that your body may face if your health is kept unchecked. Your body's own defense system may also be affected due to the depletion of natural good bacteria levels and rising bad bacteria levels. DDS Acidophilus keeps your body in check by maintaining optimum levels of good bacteria, and increasing the strength of your body's natural defenses.
Benefits that probiotic products offer:
Digest foods and alleviate digestive disorders.
Enhance synthesis of B vitamins and improve absorption of calcium.
Keeps E. coli in check.
Promotes vagina health and keeps yeast in check.
Improve immune function.
Support the management of acne.
Helps maintain normal cholesterol.
SUGGESTED USE: Take 1/4 teaspoonful mixed in water before meal on an empty stomach, preferably in the morning.
DDS® - Acidophilus has been packaged with nitrogen flushing to enhance stability.
SUPPLEMENT FACTS:
L Acidophilus DDS-1 (which contains over 5 billion active L. acidophilus DDS at the time of manufacturing.) 1 g *
Frucgoolibosaccharides (FOS) 50 mg *
Free Of: Wheat, eggs, dairy, yeast, sugar, corn, soy, gluten, artificial flavors or preservatives.
STORAGE: Keep refrigerated under 40 F.
SKU: 345
UPC: 725334003458
Distributed or manufactured from UAS Labs. See more
UAS Labs
products.