Bodybuilding Supplements - Creatine - Muscle Growth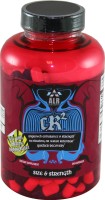 ---
Ingredients & Description
In the early 90s the world of bodybuilding and athletics was turned on its ear with the introduction of a novel new compound into the supplement market called creatine monohydrate. Until this point most of the supplements used by those looking to get bigger, stronger, or faster were little more than "snake oil" with little science, or even anecdotal proof of their efficacy behind them. However, creatine monohydrate was different! As you may or may not know, the muscle's main source of fuel during a workout is adenosine tri-phosphate, or ATP for short.
Creatine phosphate helps re-synthesize ATP during high intensity training, thus, the more creatine you have in your muscles, the more efficiently this process will take place.This means more power, more reps, and more muscular endurance! In addition, creatine has the awesome side effect of carrying water into cells along with it, which can make your muscles fuller and rounder, or more volumized. Also, a more hydrated cell is a more anabolic cell! That means growth! So, as you can see, creatine is an awesome compound for getting bigger and stronger. However, there is a problem with all the creatine's currently on the market...they suck at getting absorbed! That's right; all of the creatine monohydrates, citrates, malates, and fancy delivery systems are only getting milligram amounts of creatine into your muscles, even though you are consuming GRAM amounts! And the amazing thing is, most people still get dramatic effects from all of these sub-optimal creatines.
Supplement Facts
Cr2
Serving Size:3 capsules
APS
%DV
Calories
0 g
Sodium
0 g
Total Carbohydrate
0 g
Sugars 0g
0 g
Creatine Ethyl Ester HCI
2250mg
Suggested Use:
Take 4 capsules two times daily including non-training days. For best results take one serving of ALRI Cr2 (4 capsules) with 12-16 ounces of water 15 minutes prior to training and drink plenty of fluids during training session.
SKU: ALRICR2002400000CP
UPC: 689076194822
Distributed or manufactured from ALRI. See more
ALRI
products.