Cox 2 Tame - Jarrow Formulas - Full Spectrum Herbal Extracts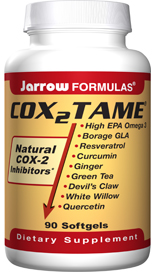 ---
Ingredients & Description
COX2TAME® is a synergistic blend of herbal extracts and oleoresins (full spectrum herbal extracts) known to provide natural CycloOxygenase-2 (COX-2) enzyme inhibition.* COX-2 inhibition is important for healthy joint function, normal cellular development (overexpression of COX-2 causes abnormal cell development) and healthy aging.*
COX2TAME® contains Omega 3 fatty acids known to generate prostaglandins series 3 (PGE3) and inhibit COX-2.*
Devils Claw contains COX-2 inhibitors iridoid glycosides, such as harpagosides, clinically proven to improve joint motility and flexibility.*
GLA from Borage seed oil extract, enhances synthesis of prostaglandins series E1 (PGE1).*
Other COX2TAME® Herbs/phytochemicals: Curcumin, Ginger, Quercetin, Resveratrol, Green Tea: sources of powerful phenolic antioxidants that disrupt the signaling processes that activate COX-2 gene expression.*
White Willow Bark is a bitter herb rich in flavonoids and salicyclic acid derivatives (salicin and salicortin) responsible for inhibiting COX-2.*
Take 1 to 3 softgels per day with water or juice, with meals, or as directed by your qualified health care consultant.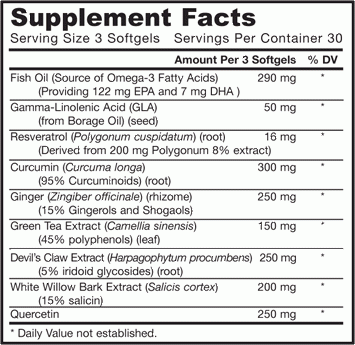 DO NOT use if under the age of 18, pregnant, lactating, trying to conceive, or if using any medication.
Celery Seed Extract is widely used as an effective diuretic, as well as a dietary supplement to help improve circulation and heart health.
SKU: COX
UPC: 790011290087
Distributed or manufactured from Jarrow Formulas. See more
Jarrow Formulas
products.