CoQ10 plus Hawthorne (30 VCaps) -HealthForce Nutritionals- High Potency Antioxidant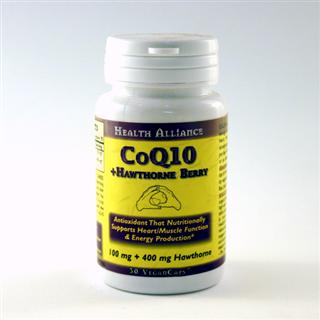 ---
Ingredients & Description
"CoQ10 is used for treatment of congestive heart failure, treatment of cardiac arrhythmia, lowering blood pressure, and reducing injury following stroke or heart attack. CoQ10 has anti-aging effects as well. It increases exercise tolerance, stimulates the immune system (which becomes less efficient with age), and is a potent antioxidant in its own right. It is also very effective in treating periodontal disease." - Dr. Lita Lee, chemist, nutritional consultant & lecturer
CoQ10 allows the body to utilize oxygen at the cellular level and unlock natural energy from each cell. When we are young, our bodies make lots of Coenzyme Q10 from plant proteins, but as we get older we produce less and less, thus making this a much-needed supplement. CoQ10 enhances the body's ability to use oxygen at the cellular level.
CoQ10 is also critically involved in the production of energy (in the form of ATP) at the cellular level. This super energy-rich molecule must be constantly replaced to sustain necessary energy for survival. Only about 2-4 ounces of this ATP energy molecule are stored in the body at any one time. If CoQ10 levels are low (as they are in nearly everyone these days), ATP synthesis is hampered. As a result, energy levels drop, leaving cells vulnerable to infection, mutation, or elimination.
Our CoQ10 also contains 400 mg. of Hawthorne Berry, which is known as one of the most valuable cardiovascular tonics available. It has been used (in higher quantities than in our Q10 caps) to bring high or low blood pressure back to normal and reduce the severity and frequency of angina attacks. It has also been used in the treatment of irregular heartbeats, artery spasms (Raynaud's), and some nerve disorders such as insomnia.
Our CoQ10 is a high, yet non-toxic potency. Our Q10 contains 100 mg of CoQ10 per each VeganCap®. More benefit is derived from this than lower potency products.
SKU: COQ30
UPC: 650786000093
Distributed or manufactured from HealthForce Nutritionals. See more
HealthForce Nutritionals
products.