Complete Foods Multi (240 tab) - Trace Minerals Research - 170 Living Foods, Organic Sea Minerals from Concentrace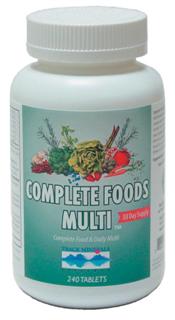 ---
Ingredients & Description
Take Complete Foods Multi like a high powered smoothie but in a convenient tableted form. Complete Foods Multi is packed with over 170 living foods, organic sea minerals from Concentrace®, vitamins and minerals. Trace Minerals Researchs® special process combines these nutrients with a special sea mineral blend that activates the foods and nutrients so they assimilate and digest properly. This propriety ingredient and process provides one of the highest quality all natural multi-food, multi-vitamin & multi-mineral available.
A recent study published in JAMA (Journal of American Medical Association) suggested that adults should take a Multi-Vitamin daily. Complete Foods Multi provides that plus the benefits of natural nutrients found in foods that are greatly missing in the typical American diet.
Complete Foods Multi is packed with the following nutrients:
1500 mg per dose of ConcenTrace® Sea Mineral Blend. An organically approved ingredient. A special blend of Ionic Trace Minerals with over 72 trace minerals and elements.
925 mg per dose of Vegetable and Sea Vegetable Blend (Equal to 2675 mg): alfalfa juice extract, Greens Blend [cereal grass juice powders (alfalfa, wheat, barley and oat), cabbage, broccoli, kale, parsley, spirulina, cracked cell chlorella, kelp, dulse, dandelion greens, and broccoli sprouts], spirulina algae, kelp, Vegetable Blend (carrot, broccoli, tomato, cucumber, kale, spinach, parsley, cabbage, celery, cauliflower, green bell pepper, asparagus, brussel sprouts, onion, garlic and ginger), chlorella algae, sodium alginate, bladderwrack thallus, kelp, kombu, alaria, dulse, laver, nori, wakame algae, betatene.
240 mg per dose of Fruit and Berry Blend (Equal to 900 mg): Berry Blend (Grape, Cranberry, Bilberry, Blueberry, Elderberry, Raspberry, and Strawberry), Fruit Blend (Apple, Grape, Grapefruit, Orange , Pineapple, Lemon, Lime, Cherry, Watermelon, Pear, Mango, Strawberry, Papaya, Tangerine, and Apricot), cranberry fruit extract, european elder fruit extract.
125 mg per dose of Botanical Blend: Turmeric root, Ginger root, Oregano leaf, Rhododendron Caucasicum, Rosemary leaf.
36 mg per dose of Mushroom Blend (Equal to 400 mg): Cordyceps extract, Maitake extract, Poria sclerotium extract, Reishi extract, Shiitake extract, Tremella extract, Turkey Tails extract, Agaricus Blazei, Grifola, Lion's Mane.
Plus the benefits of a complete multi of vitamins and minerals including over 8,000 I.U of beta carotene and vitamins b, c, d, e and k as well as magnesium, calcium, selenium, potassium, zinc and boron. Plus lutein, Lycopene®, alpha lipoic acid and much more.
Suggested Use: Take 2-4 tablets daily with meals.
Supplement Facts
Complete Foods
Serving Size:4 tablets
APS
%DV
Vitamin A (as Beta Carotene)
8000 IU
160%
Vitamin C (Absorbic Acid)
125 mg
208%
Vitamin D2 (Ergocalciferol)
200 IU
50%
Vitamin E (d-alpha tocopherol)
112.5 IU
375%
Vitamin K (Phytonadione)
40 mcg
50%
Thiamin (as Thiamine hydrochloride)
4.5 mg
300%
Riboflavin
5 mg
294%
Niacin (as Niacinamide)
30 mg
150%
Vitamin B-6 (Pyridoxinehydrochloride)
6 mg
300%
Folic Acid
500 mcg
125%
Vitamin B-12 (Cyanocobalamin)
250 mcg
4167%
Biotin
150 mcg
50%
Pantothenic Acid
35 mg
350%
Calcium (from Calcium Citrate)
125 mg
13%
Iron (from Iron fumarate)
4.5 mg
25%
Iodine (from Kelp)
100 mcg
67%
Magnesium (from Concentrace and Magnesium Oxide)
240 mg
60%
Zinc (from Zinc amino acid chelate)
7.5 mg
50%
Selenium (as L-seleniomethionine)
150 mcg
214%
Copper (from Copper amino acid chelate)
300 mcg
15%
Manganese (from Manganese amino acid chelate)
2 mg
100%
Chromium (from Chromium chelavite)
125 mcg
104%
Molybdenum (from Molybdenum amino acid chelate)
75 mcg
100%
Potassium (from Potassium citrate)
125 mg
4%
Alpha Lipoic Acid
75 mg
*
Bioflavanoids
50 mg
*
Inositol
25 mg
*
Choline (Choline bitartrate)
15 mg
*
PABA (Para amino benzoic acid)
5 mg
*
Boron (from Boron citrate)
1.5 mg
*
Lycopene
1 mg
*
Lutein
1 mg
*
Vanadium (from Vanadium amino acid chelate)
50 mcg
*
*Daily Value (DV) based on a 2,000 calorie diet. **Daily Value not established.
Other Ingredients: Microcrystalline cellulose, stearic acid, croscarmellose sodium, magnesium stearate, and silicon dioxide.
Allergen Info: contains no known allergens.
SKU: CFM01
UPC: 878941000379
Distributed or manufactured from Trace Mineral Research. See more
Trace Mineral Research
products.