Complete Cleansing Fiber-Part 2 (12 oz.) - Trace Minerals Research - Cleanse your body and start feeling more healthy.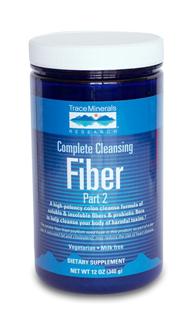 ---
Ingredients & Description
Complete Cleansing Fiber Part 2 is a masterful blend based on psyllium, the amazing natural fiber with significantly higher soluble fiber than even oat bran. But we go further50% of the psyllium is whole (not powdered) husk fiber for maximum cleansing and 50% is whole powdered psyllium seed for maximum bulking. We also add natural soluble apple fiber to round out the fiber complex.
The formula contains 194 million colony forming units (CFU) per serving of Lactobacilli and 9 other complementing strains of friendly bacteria (flora). This complex of milk-free intestinal flora is ideal to assure maximum benefit under a variety of conditions. It aids in digestion, intestinal tone, and oxygenation and especially helps to assure healthy flora balance.
What is especially unique about this combination of fiber and flora is that the non-digestible fiber acts as a carrier to assure the safe arrival of the precious flora past the harsh digestive tract to the lower bowel where it can flourish.
In addition, as soluble fiber reaches the large intestine, the prebiotic fibers begin to ferment and yield short chain fatty acids, which affect the function of many regulatory systems in the body. Prebiotics benefit the body by boosting production of the beneficial cultures that naturally reside in the digestive tract and help aid digestion. These beneficial cultures help support the natural healthy bacterial balance of the intestines, increase good gut flora, and reduce occasional indigestion. You may expect a wide spectrum of nutritional benefits.
The soluble fiber from psyllium seed husk in this product, as part of a diet low in saturated fat and cholesterol, may reduce the risk of heart disease.
A serving of Complete Cleansing Fiber supplies 4 grams of soluble fiber from psyllium husk necessary to have this effect.
Suggested Use: One heaping teaspoon in a glass of juice or water once or twice daily. Stir and drink immediately or within 1-2 minutes. Always drink plenty of fluids when using psyllium. Complete Cleansing Fiber should be taken with at least a full glass of water. Taking this product without enough liquid may cause choking. Do not take this product if you have difficulty in swallowing.
Supplement Facts
The Complete Cleansing and Anti-Toxin System
Serving Size: ¼ oz. (7 grams or 1 heaping teaspoon)
APS
%DV
Vitamin C (Ascorbic Acid)
170 mg
2.78
Vitamin E (d-alpha Tocopherol Succinate)
60 IU
1.93
Pantothenic Acid (d-Calcium Pantothenate)
100 mg
10
Calcium (Calcium Citrate, Carbonate)
130 mg
0.13
Magnesium (Magnesium Citrate & Amino Acid Chelate)
330 mg
0.82
Chloride (ConcenTrace®)
180 mg
0.05
Sodium (ConcenTrace®)
20 mg
<1%
Potassium (Potassium Citrate & ConcenTrace®)
210 mg
0.06
Herbal Blend
668 mg
**
Kelp, Dulse (Rhodymenia sp.), Siberian Ginseng, Licorice Root, Horseradish Root, Yellow Dock Root, Horsetail Concentrate.
ConcenTrace® Blend
1/9 tsp.
**
All the minerals from 1/9 tsp. ConcenTrace®, concentrated and dehydrated from Utahs Great Salt Lake, equivalent to the content of 1/9 cup sea water, with 99% sodium removed.
Sulfate (ConcenTrace®)
12 mg
**
Natural Unesterfied Mixed Tocopherols
10 mg
**
Octacosanol
0.42 mg
**
Boron (as Amino Acid Chelate)
0.22 mg
**
Additional Ingredients: Maltodextrin. Contains no other ingredients.
Milk free. Vegetarian Formula.
Allergen Info: Contains gluten.
Whole Body Cleanse, Improved Formula by Enzymatic Therapy. Whole Body, Liver, Metal, Simple 5-day, Stress and Whole Body Cleanses Now On Sale
SKU: CLC02
UPC: 878941000034
Distributed or manufactured from Trace Mineral Research. See more
Trace Mineral Research
products.