Red Palm Oil plus Coconut Oil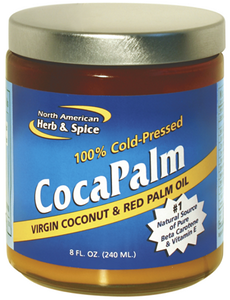 ---
Ingredients & Description
CocoPalm is a potent combination of wild red palm oil, ethically harvested by village co-ops, along with raw coconut oil. This blend creates the most ideal nutritional profile of:
Beta Carotene
Vitamin E
Medium Chain Fatty Acids
Vitamin K
CoQ10
and much more.
Plus it is a raw source of the highly antioxidant tocotrienol.
Take CocoPalm everyday. Internally and topically for beautiful skin. There is no better oil blend for cooking at low to medium heat and it is a great addition to smoothies and shakes.
CocaPalm oil contains the highest concentration of vitamin E (70% tocotrienols). CocaPalm is natures most abundant source of beta carotene15 times more than carrots and 300 times more than tomatoes. CocaPalm is also a great source of medium-chain triglycerides, including lauric acid, a natural antiseptic. The medium-chain triglycerides are a powerful food for a healthy heart, and so is vitamin E, the tocotrienols, and beta carotene. Thus, CocaPalm is the most heart-healthy cooking oil available.
Benefits:
use as a healthy cooking oil, especially if cooked on medium-low or low heat
has a high heat-holding capacity, so cooks well without excessive heat
plays a major role in contributing beta carotene and vitamin E to the diet
highly easy to digest and perfectly healthy for the heart
number one natural source of beta carotene plus tocotrienols (a special highly potent form of vitamin E)
has a famous history for skin and may be used to prevent sunburn or to nourish skin
Suggested Use
Take one or two tablespoons daily. It's also a great topical rub for skin health. Ideal for a variety of preparations such as stir-fry, organic eggs, vegetables, and meats. Shake well before using.
Other Ingredients
Virgin coconut oil, crude red African palm oil.
---
*Not intended to diagnose or treat diseases or ailments, and is not reviewed by the FDA.
Uses & Indications.
Anti-inflammatory
Valued Source Of Vitamin E And Beta Carotene
Potent Antioxidant
Ailments & Concerns.
Alzheimer's Disease
Joint Pain
Sore Muscles