CMZ (180 capsules) - VPX Sports - Advance to the Next Level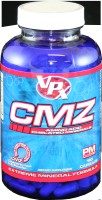 ---
Ingredients & Description
While most athletes and bodybuilders understand the importance of proteins, fats, carbohydrates and even vitamins in the diet, not as many pay attention to the important roles that minerals play in optimal performance, growth and recovery. Minerals are inorganic elements that are well known for their roles in the formation of strong teeth and bones, however, they play important part in the control of the nervous system, fluid balance in tissues, muscle contractions, some hormonal function and enzyme secretion as well. All essential to the bodybuilder looking to maximize muscle growth and the athlete striving for optimal performance. CMZ is formulated with Cutting Edge Nutrient Delivery Technology; and is covered by four U.S. patents. In their ordinary form, minerals are difficult for the body to absorb through the intestines. However, CMZ contains Albion amino acid chelated minerals, which pass easily through the intestinal wall allowing for complete absorption and utilization. Albion amino acid chelates have been proven the most bioavailable, easy to tolerate, safe, and non-interactive minerals in the industry. They are far superior to all other forms of minerals in their physiological activity. CMZ is a nighttime mineral formula as amino acid chelated minerals are assimilated more optimally at night and potentiate the release of important hormones such as IGF-1, GH, and Testosterone."
Suggested Use:
as a dietary supplement for adults take three to six capules total daily. Consume three capules with your first and last meal or as directed by a health care practitioner.
Supplement Facts:
Serving Size 6capsules Calcium 500mg 50% Magnesium 300mg 75% Potassium 99mg 3% Zinc 22.5mg 150% Iron 10mg 56% Boron 10mg Manganese 4mg 200% Chromium 300mcg 250% Molybdenum 75mcg 100% Percent Daily Values are based on a 2000 calorie diet
Other Ingredients:
Gelatin, Stearic acid cellulose and magnesium stearate
SKU: VPXSCMZ01800000CP
UPC: 610764384706
Distributed or manufactured from VPX Sports. See more
VPX Sports
products.