CholestSolve 24/7 - American Biosciences - Healthy Heart Support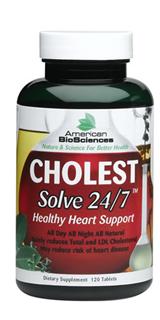 ---
Ingredients & Description
COQ10, Resveratrol, Quercetin, Red Grape Skin Extract & Green Tea Extract
A revolutionary heart-health formula, containing super nutrients called plant sterols. Plant sterols have been shown, through scientific studies, to lower Total and LDL cholesterol. These studies have been so significant that the FDA now allows the health claim that taking 800 mg or more of plant sterols daily may reduce the risk of heart disease ..and CHOLESTSolve 24/7 was formulated with a whopping 1300 mg.thats 62% more than most other cholesterol-lowering products on the market!!
CHOLESTSolve 24/7 doesnt stop there! This powerful formula is multi-faceted because, in addition to plant sterols, it also contains a combination of five other super nutrients beneficial in supporting vascular and heart health while providing excellent antioxidant protection. ---COQ10, Resveratrol, Quercetin, Red Grape Skin Extract & Green Tea Extract. CHOLESTSolve 24/7 works round the clock to protect your heart!
Two CholestSolve tablets, taken twice a day with meals as part of a diet low in saturated fat and cholesterol, provides the recommended total daily dose of 1.3 g (1300 mg) of plant sterols and may reduce the risk of heart disease.
Development of heart disease depends upon many factors such as a family history of CHD; excess body weight; high blood pressure; cigarette smoking; diabetes; physical inactivity and elevated blood Total and LDL cholesterol.
CHOLESTSolve 24/7 is an all natural way to support and maintain a healthy heart.
Suggested use: As a dietary supplement, take 2 tables twice a day with meal.
Supplement Facts
CHOLESTSolve 24/7
Serving Size:2 tablets
APS
%DV
Plant Sterols (90%) (from soy and other vegetable oils)
650 Milligrams
*
Proprietary Antioxidant Blend
100 Milligrams
*
Resveratrol (Polygonum cuspidatum root extract)
0
Coenzyme Q-10
Green Tea Leaf Extract
0
Red Grape Skin Extract
0
Quercetin
0
Other Ingredients: Dicalcium phosphate, microcrystalline cellulose, croscarmellose sodium, stearic acid, magnesium stearate, silica and pharmaceutical glaze.
SKU: SN0353524 /ASCS-120
UPC: 678226111208
Distributed or manufactured from American BioSciences. See more
American BioSciences
products.