CellEnergy (90 Tabs) - Trace Minerals Research - A Nutritional Megadose of Life-Enhancing Cellular Energy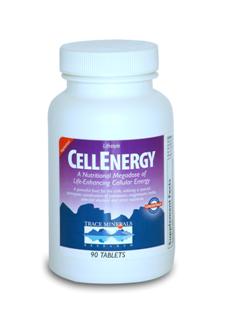 ---
Ingredients & Description
CellEnergy helps to revitalize and energize your entire electrical system by fine-tuning your body's subtle energies. It works on a cellular level, like "massaging" and nourishing each individual cell so the strength you feel comes from within the very core of your body's cells. Taking CellEnergy every day provides nutritional support for your bio-electrical system and helps connect your mind, body and spirit.ÃÂ It allows you to feel a tranquil, inner peace you otherwise wouldn't experience. The result is a refreshed feeling which allows you to cope with life's little struggles throughout the day.
Formulated by Anae Campbell, world-renowned herbalist, teacher and health scientist with the health practitioner in mind.
The ingredients in CellEnergy are chosen and synergistically combined to be extremely assimiable to the cells of the body. This food for special dietary use is designed to help break the cell fatigue cycle by increasing nutritional energy within the cell, thus stimulating functions, including elimination of cell toxins and waste.
Suggested Use: For regular use, take 3 tablets daily divided with meals.
Supplement Facts
CellEnergy
Serving size: 3 tablets
APS
%DV
Vitamin C (Ascorbic Acid)
170 mg
2.78
Vitamin E (d-alpha Tocopherol Succinate)
60 IU
1.93
Pantothenic Acid (d-Calcium Pantothenate)
100 mg
10
Calcium (Calcium Citrate, Carbonate)
130 mg
0.13
Magnesium (Magnesium Citrate & Amino Acid Chelate)
330 mg
0.82
Chloride (ConcenTrace®)
180 mg
0.05
Sodium (ConcenTrace®)
20 mg
<1%
Potassium (Potassium Citrate & ConcenTrace®)
210 mg
0.06
Herbal Blend
668 mg
**
Kelp, Dulse (Rhodymenia sp.), Siberian Ginseng, Licorice Root, Horseradish Root, Yellow Dock Root, Horsetail Concentrate.
ConcenTrace® Blend
1/9 tsp.
**
All the minerals from 1/9 tsp. ConcenTrace®, concentrated and dehydrated from UtahÃÂs Great Salt Lake, equivalent to the content of 1/9 cup sea water, with 99% sodium removed.
Sulfate (ConcenTrace®)
12 mg
**
Natural Unesterfied Mixed Tocopherols
10 mg
**
Octacosanol
0.42 mg
**
Boron (as Amino Acid Chelate)
0.22 mg
**
Additional Ingredients: Vegetable derived cellulose, modified cellulose gum, vegetable stearic acid, vegetable magnesium stearate and silicone dioxide. No artificial preservatives, dicalcium phosphate, artificial colors or flavor.
Plus the following in naturally occurring varying trace amounts; Bromide, Carbonate, Boron, Calcium, Silicon, Nitrogen, Selenium, Phosphorus, Iodine, Chromium, Manganese, Titanium, Rubidium, Cobalt, Copper, Antimony, Molybdenum, Strontium, Zinc, Nickel, Tungsten, Scandium, Vanadium, Tellurium, Tin, Lanthanum, Yttrium, Silver, Gallium, Bismuth, Zirconium, Cerium, Cesium, Gold, Beryllium, Hafnium, Samarium, Terbium, Europium, Gadolinium, Dysprosium, Thorium, Holmium, Lutetium, Erbium, Ytterbium, Neodymium, Praseodymium, Niobium, Tantalum, Thallium, Rhenium, Indium plus the other elements found in sea water.*Daily Value (DV) based on a 2,000 calorie diet. **Daily Value not established.
Ingredients (in addition to the above): Purified Water, Cranberry Concentrate, Blueberry Concentrate, ConcenTrace® Trace Minerals, Sea Water, Herb and Sea Vegetable Blend (Bladderwrack, Spirulina, Irish Moss, Kelp, Pau d' Arco), Sea Cucumber, Natural Flavor Blend, Citric Acid, Sodium Benzoate & Potassium Sorbate (for freshness).
Vegetarian. Allergen Info: contains wheat and gluten.
SKU: CEL01
UPC: 786601239017
Distributed or manufactured from Trace Mineral Research. See more
Trace Mineral Research
products.