Cell-Tech Hardcore Fruit Punch (6.7lb) - MuscleTech - Most Powerful Creatine Musclebuilder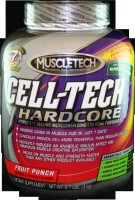 ---
Ingredients & Description
Cell-Tech Hardcore is the fastest acting, most powerful advanced musclebuilding creatine formula ever developed by science. Powered by Nanomolecular Hyperdispersion TechnologyCell-Tech Hardcore goes to work immediately, supersaturating your muscles with its hyperosmotic accelerated creatine matrix. Cell-Tech Hardcore overcomes solubility deficiencies of regular creatine using a precise portion of nanoparticulated creatine particles. These microscopic creatine particles are a fraction of the size of regular creatine particles and can only be seen through the most powerful electron microscopes. Nanoparticulated creatine particules have an extremely high bioavailability, targeting muscles faster for unparalleled creatine delivery and myocellular saturation. Based on available published research, there has been nothing proven superior to Cell-Tech Hardcore. It's the ultimate advanced creatine formula for anyone serious about gaining muscle and getting strong extremely quick.
Suggested Use:
1. For the first 5 days (loading stage): Take 2 servings daily, 1 in the morning when you wake up and the other immediately after your workout. If you are not training that day, have the first serving in the morning when you wake up, and the second servin
Supplement Facts:
Serving Size 2 Scoops (100g) Calories 310 Total Carbohydrate 75g 25% Sugars 75g Vitamin C 250mg 417% Calcium 120mg 12% Phosphorus 180mg 18% Magnesium 65mg 16% Chromium 300mcg 250% Sodium 140mg 6% Potassium 140mg 4% Cree-Edge 10g Osmodrol 2300mg Lipoic-Tech 200mg Insulodrive 132mg Based on a 2,000 Calorie Diet
Other Ingredients:
LABORATORY-GRADE DEXTROSE, CITRIC ACID, NATURAL AND ARTIFICIAL FLAVORS, CALCIUM SILICATE, MODIFIED FOOD STARCH, GUM ARABIC, TITANIUM DIOXIDE, TRICALCIUM PHOSPHATE, XANTHAN GUM, FD&C RED NO.40. CONTAINS MILK INGREDIENTS .**ChromaTech
SKU: MSCTHCCT06LBFPUNPW
UPC: 631656700244
Distributed or manufactured from MuscleTech. See more
MuscleTech
products.