Cardio Health | Gluten-Free, Condition-Specific, Raw Whole Food-Based Nutritional Supplements | Emerald Laboratories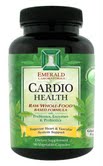 ---
Ingredients & Description
Ultra Laboratories & Emerald Laboratories present a comprehensive group of Gluten-Free, Condition-Specific, Raw Whole Food-Based Nutritional Supplements. Completely Free of Additives, Fillers, Magnesium Stearate. All natural, High quality and 100% pure for your health.
Cardio Health - 60 capsules
Therapeutic dosages of synergistic healthy nutrients that have been shown to support overall cardiovascular health and promote artery health.
Suggested Use: Take three capsules divided throughout the day with or without food
Benefits from this formula by Dr. Mark Stengler include:
Contains 99% Delta Tocotrienols, the most active form of the tocotrienols
Tocotrienols have been shown to effectively lower LDL cholesterol, lower triglycerides and greatly benefit overall heart health
Studies have shown that pomegranate consumption can be directly attributed to a reduction of arterial carotid plaque by up to 35% after one year (Clin Nutr. 2004 Jun;23(3):423-33)
Green Tea helps reduce LCL oxidation which plays a role in atherosclerosis (Eur J Clin Nutr 1996;50:2832)
Supplement Facts
Cardio Health
Serving Size: 3 capsules
APS
%DV
Vitamin K2 (Menaquinone)
10mcg
10%
Delta-Gamma Tocotrienols - Full Spectrum Mixed Tocotrienols
25mg
Pomegranate Juice Powder
750mg
Garlic Powder
400mg
Hawthorne Berry Extract (1.8% Vitexin)
250mg
Tumeric Extract (95% Curcuminoids)
100mg
Green Tea Extract (45% EGCG) 100mg
100mg
Cayenne Powder
200mg
Raw Whole-Food Proprietary Blend
100mg
Raw Whole Food Sprout Powders (Alfalfa, Quinoa, Mung Bean, Millet & Brocolli - containing 3500ppm sulfurophane), Raw Plant Enzyme Blend (Lipase, Lactase, Invertase, Protease, Hemicellulase, Cellulase, Alpha-Galactosidase, Amylase, Bromelain, Papain, Acid-Stable Protease, Maltase), Raw Probiotic Blend (Acicophilus DDS-1 Strain 200 million CFUs, B. Bifidum 200 million CFUs),Whole Food Pomegranate Juice Powder, Raw Whole Food Freeze-Dried Acai Powder, Whole Food Goji Fruit Extract, Whole Food Mangosteen Hull Powder, Whole Food Noni Fruit Powder, Fructo-Oligosaccharides, Whole Food Chlorella Powder, Whole Food Spirulina Powder, Resveratrol (Standardized from Polygonum Cuspidatum)
* Percent Daily Value based on a 2000 Calorie diet.
Percentage Daily Value not established
Other Ingredients: Vegetable capsule, Tocotriene Complex.
Gluten-Free, Condition-Specific, Raw Whole Food-Based Nutritional Supplements
Emerald Laboratories products are formulated by Dr. Mark Stengler - Author of "Prescription for Natural Cures" and "Prescription for Drug Alternatives".
"Therapeutic doses with clinical results" - Dr. Mark Stengler
Why is our mission of being Additive-Free so important?
Additives have little or no nutritive value. The point of taking a dietary supplement is for the herbs or nutrients to fully be utilized by our bodies. Additives do not facilitate this process; they are not in the products for your benefit. The best supplements promote the quick and effective uptake of nutrients by your body.
Top 7 Reasons Why Emerald Laboratories is Superior
1. Raw Whole-Food Based Formulas for Enhanced Absorption & Bioavailability 2. Formulated by Dr. Mark Stengler
3. Therapeutic Doses with Clinical Results
4. 100% Additive-Free - No Magnesium Stearate
5. Gluten-Free Formulas
6. Purity Tested - cGMP Certified Facility
7. Every Product in Vegetable Capsules
SKU: em00226
UPC: 743650 00226 9
Distributed or manufactured from Ultra Laboratories. See more
Ultra Laboratories
products.
---
*Not intended to diagnose or treat diseases or ailments, and is not reviewed by the FDA.
Uses & Indications.
Promoting Healthy Circulation
Maintaining Strong Arteries
Supporting Cardiovascular Health
Ailments & Concerns.