Calada | Lowers Blood Pressure | Otigh | 180 vegicaps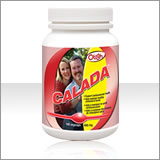 ---
Ingredients & Description
Calada from Otigh is a natural and safe way to manage healthy blood pressure levels and promote cardiovascular health. Calada is derived from the plant, Ilex Hainanensis Merr, which is grown in southern China. It is a natural approach to maintaining proper blood pressure levels and balancing cholesterol. Calada works to relieve a variety of symptoms associated with high blood pressure such as dizziness, headache, and dry mouth. Calada works to enhance cardiovascular health by increasing blood volume through coronary arteries and blood vessels and by decreasing general peripheral vascular resistance. This mechanism of action maximizes circulation through the heart and body and keeps arteries and vessels clean and smooth.
It is extremely crucial to maintain healthy blood pressure for the purpose of overall heart health. High blood pressure will eventually cause scarring in the blood vessels and arteries which will result in the buildup of plaque. This process will weaken the heart and diminish blood flow throughout the body. Ultimately, high blood pressure can cause the blood vessels in the brain to rupture, resulting in stroke and sometimes death. Cholesterol must also be managed at healthy levels in order to maintain cardiovascular health. High cholesterol can be dangerous and can lead to heart disease, atherosclerosis (narrowing of the arteries due to fatty plaque buildup), and stroke. Calada from Otigh could be your key to regulating blood pressure, balancing cholesterol levels, and enjoying cardiovascular health. Calada has not been found to cause any negative side effects. It has been used safely in China by the general medical community for years and is gaining recognition in the United States. However, it is always important to consult with your physician before taking any new medication or supplements.
Benefits:
Promotes cardiovascular health
Regulates blood pressure
Maintains healthy cholesterol levels
Medicinal ingredients: (Each capsule contains)
Sanlucha (4.5:1 extract)................................................400 mg
(Ilex pubescens) (leaves) equivalent to 1800 mg of dried Ilex pubescens.
Non-medicinal ingredients
Hypromellose,cellulose, magnesium stearate, calcium phosphate (dibasic anhydrous).
Directions:
Recommended dose (adults): Take 2 to 4 capsules, 3 times daily with water.
Cautions and contraindications:
Do not use if you are pregnant or breastfeeding.
Store in a cool and dry place.
Do not use if seal is broken or missing.
Keep out of reach of children.
Zyflamend Bonus Pack
Distributed or manufactured from Otigh. See more
Otigh
products.