Borage Super GLA (1300mg 30 softgels -Planetary Formulas- Rich Source of Gamma-Linolenic Acid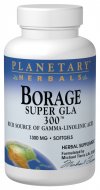 ---
Ingredients & Description
As an essential fatty acid, GLA is a building block the body uses to ultimately produce and store energy, and is used in every cell of the body. EFAs help to make up our cellular membranes and act as "gate-keepers" for our cells. Having healthy cell membranes is crucial, as every cell must have the ability to take in the proper nutrients and keep out metabolic toxins. EFAs maintain the fluidity and permeability of our cellular membranes, promoting nutrient absorption. As the brain contains a high percentage of fatty tissue, EFAs also promote healthy brain function.One of the most important roles of EFAs is the production of eicosanoids, short-lived regulatory messenger molecules inside our cells. These hormonelike substances regulate a variety of metabolic processes in the body, including blood pressure balance, smooth muscle contraction, proper blood clotting, blood vessel flexibility and immune system regulation.
Borage Super GLA 300 is a good way of taking a metabolic shortcut and ensuring the production of the crucial prostaglandins. Borage Super GLA 300 is an oil concentrate expressed from the seeds of the uniquely high-yielding borage plant using a specialized, non-toxic, solvent-free, coldpressed extraction technique. Each softgel capsule contains 1,300 mg of borage seed oil, yielding 300 mg of gamma linolenic acid and 446 mg of linoleic acid.
Suggested use: 1 or 2 softgels daily with meals.
Supplement Facts for Softgels Serving Size: 1 softgel Amount % DV Calories 15 Calories from Fat 10 Total Fat 1 g< 2 %Borage Seed Oil 1.3 g Yielding: Linoleic Acid (LA )477 mg gamma-Linolenic Acid (GLA) 300 mg Oleic Acid 194 mg Palmitic Acid 112 mg
Other Ingredients: gelatin, glycerin, purified water.Warning: If you are pregnant, may become pregnant, or breastfeeding, consult your health care professional before using this product.STORE IN A COOL, DRY PLACE.Keep out of reach of children.
Planetary Herbals offers the best of classic herbal traditions, from Ayurvedic and traditional Chinese herbalism to the experience of Western herbal practitioners. Utilizing the knowledge of more than 30 years clinical experience, professional herbalists such as Michael Tierra, Lesley Tierra, Jill Stansbury, and Alan Tillotson, Planetary Herbals is committed to ensuring that our time-tested herbal traditions continue to evolve, grow, and flourish.
SKU: PF0360
UPC: 021078103608
Distributed or manufactured from Planetary Herbals. See more
Planetary Herbals
products.