Pure Synergy Bone Renewal Breakthrough Formula for Healthy Bones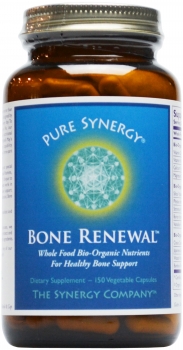 ---
Ingredients & Description
Pure Synergy Bone Renewal supports your bone's natural capability for self-regeneration, thanks to its exclusive three-part formula of whole food, Bio-Organic Nutrients.
Bone Renewal is a breakthrough in bone supplementation based on Mitchell MayÃÂs unique healing experience, scientific research, and deep knowledge of traditional medicines and the cultures that understand their use. Synergizing the core ingredients of Bone Renewal are its four unique botanicals, each prized for their profound role in bone health. You wonÃÂt find these unique and proven Synergizers in comparable purity, potency and quantity in any other bone health formula.
Inside each capsule youÃÂll find a treasure chest of powerful, bone-health ingredients from land and sea, each supported by advanced nutritional science and by centuries of use in traditional cultures around the world. Sustainably sourced by The Synergy Company, each vital ingredient is cultivated for its unsurpassed purity, potency, and bioavailability. This bio-organic blend contains all the essential nutrients and co-factors needed for your healthy bone maintenance and regeneration: 100% plant-based calcium, magnesium, vitamins, enzymes, trace minerals
In addition to all the finest quality, essential ingredients, Bone Renewal includes a third class of nutrients not found in any other bone-supplement formulaÃÂan exclusive blend of our four rare and vitalizing botanical Synergizers. These Mitchell May signature ingredients are the ÃÂmissing linksÃÂ that enable an entirely new dimension of healthy bone support.
Pure Synergy Bone Renewal Three Part Formula includes:
Bio-Organic Core Minerals and Vitamins:Plant based Calcium from Sea & Land, Magnesium from 3 Natural Sources, Vitamins K1 and K2, Vitamin D3
Bio-Organic Co-Factors: Silica, Phytase Enzyme, Strontium, Boron, Vanadium
Botananical Synergizers: Cissus Extract, Sargassaum Algae Extract, Wasabi Rhizome, Bamboo Tabasheer Extract
Suggested Use: 5 capsules daily - 2 with breakfast and 3 with dinner.
Supplement Facts
Pure Synergy Bone Renewal
Serving Size:5 capsules
APS
%DV
Bio-Organic Core Minerals and Vitamins
*
Vitamin D3* (fermented)
2000 IU
*
Vitamin K
Vitamin K2 (fermented natto) 50 mcg
K1* (fermented) 30 mcg
80 mcg
*
Calcium (Icelandic red algae Japanese white sesame seeds)
800 mcg
*
Magnesium (Dead Sea mineral concentrate; chelated with brown rice)
400 mg
*
Bio-Organic Co-Factors
Silica (bamboo Icelandic red algae)
25 mg
*
Phytase (fermented enzyme)
5 mg
*
Strontium (Icelandic red algae)
5 mg
*
Boron (fermented; chelated with brown rice)
3 mg
*
Vanadium (Icelandic red algae¹)
20 mcg
*
Bio-Organic Synergizers
Cissus Quadrangularis (Synergized extract)
500 mg
*
Japanese Sargassum Algae (Synergized extract)
300 mg
*
Wasabi Rhizome/Leaf freeze-dried (Synergized extract)
100 mg
*
Bamboo Tabasheer Sap (Synergized extract)
35 mg
*
Certified Organic Algae: (Lithothamnion calcareum) (Sargassum horneri)
*
**Daily Value Not Established. *Percent of daily value based on a 2000 calorie diet.
Other Ingredients: Trace minerals; vegetable cellulose (capsule). Contains: fermented soy
SKU: 1BRCA
UPC: 852971004071
Distributed or manufactured from The Synergy Company. See more
The Synergy Company
products.
---
*Not intended to diagnose or treat diseases or ailments, and is not reviewed by the FDA.
Uses & Indications.
Promoting Well Being And Longevity
Supporting Healthy Bone Regeneration And Growth
Ailments & Concerns.
Aging
Osteoporosis
Calcium Deficiency
---
Questions and answers:
Asked on: March 30, 2013
Question: how long before you start feeling the effects of Bone Renewal product


0

0

A: Bone Renewal is used by many people for a number of different bone conditions or to just maintain healthy bones. In addition, everyone's biochemistry is unique and different, and due to this results will vary. For your optimum bone health support you will want to take 5 capsules of Bone Renewalevery day – two capsules with breakfast and three capsules with dinner. The latest scientific research reveals that we absorb more of the minerals and nutrients our bones need when we take them along with a meal and that it is also best to divide them up into two serving times for maximum benefits (hence 2 capsules with breakfast and the other 3 with dinner). It turns out that according to recent research, we do more bone regeneration during sleep than any other time of day – so we want to be sure we have all the nutrients we need for our bones to be able to regenerate and renew themselves during the night while we are sleeping (and that's why we suggest taking your last serving of the day of Bone Renewalwith dinner). Vote down - Vote up

Asked on: February 3, 2013
Question: after taking bone renewal can increase the bone size after 25 yrs age like wrist size or size of body what's the guaranty if yes then tell me


0

0

A: Bone Renewal is a breakthrough in bone supplementation based on Mitchell Mays unique healing experience, scientific research, and deep knowledge of traditional medicines and the cultures that understand their use. Synergizing the core ingredients of Bone Renewal are its four unique botanicals, each prized for their profound role in bone health. You wont find these unique and proven Synergizers in comparable purity, potency and quantity in any other bone health formula. In addition to Bone renewel it is best to nourish your body with the best nutrients possible. You can do this by simply eating more fresh fruits and vegetables every day, and good quality proteins as well. Also, by taking Bone Renewal every day and other good multi-vitamin/mineral organic supplements you will be both feeding your bones and body what they need and building up your nutrient reservoirs as well. In addition, one of the most important things is to engage is some form of regular exercise – a combination of walking daily, some weight bearing (lifting light weights), balancing exercises (yoga, tai chi, and etc.), all of these will literally do wonders for your bones, your body, and your mind! If you have any medical conditions, are taking prescription drugs, or need medical advise, it is alway best to consult with your physician. Vote down - Vote up