Bone Maximizer III 150 caps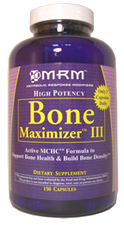 ---
Ingredients & Description
Bone Maximizer™ III contains microcrystalline hydroxyapatite concentrate (MCHC) and other vital bone and joint nutrients. This formula was designed for those concerned about osteoporosis due to decreasing bone density.* According to studies, MCHC and vitamin D may actually improve bone density in post-menopausal women.* MCHC is a complex of whole bone proteins and the optimal mineral ratios found naturally in human bone structure.*
As we get older, our bone mineral density (an indication of thickness and bone strength) decreases, thereby increasing the risk of fracture. It occurs most frequently in elderly women but can affect men as well. The etiology of this disease may be due to menopause, amenorrhea, thin body build, poor lifestyle, prescription drug reactions or dietary and nutritional deficiencies. Therefore, maximizing bone health involves the prudent selection of a positive blend of nutrients designed to support bone building without accelerating bone breakdown. These ingredients include a highly absorbable form of calcium, Vitamins D, C, and K2, zinc, and assorted minerals such as magnesium, boron, and silica. Each ingredient is an essential component within the scientifically advanced and highly potent formula of Bone Maximizer™ III.
Bone Maximizer™ III is truly a comprehensive and enhanced formula that addresses the broad range of nutritional deficiencies that both men and women are likely to face as they age, all with the convenience of only three capsules per day. Even the healthiest of aging individuals, particularly women, can benefit from the bone and support it provides. Allow Bone Maximizer™ III to worry about osteoporosis; while you enjoy everyday of your life.
High Potency - Only 3 Capsules Daily
Promotes Maximum Bone Health
MCHC Provides Vital Bone Proteins & Minerals
Contains Vitamin K, MSM, Glucosamine, & Vitamin D
Provides a highly absorbable form of calcium plus MSM &glucosamine*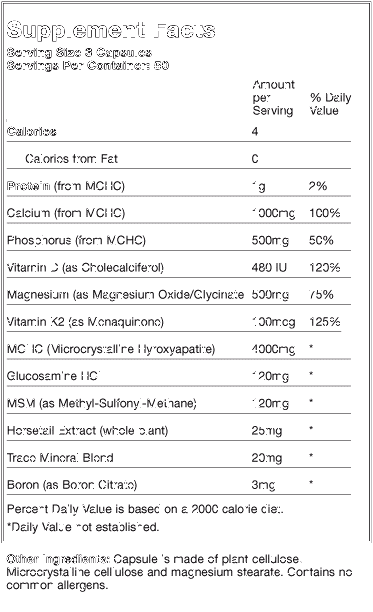 ---
*Not intended to diagnose or treat diseases or ailments, and is not reviewed by the FDA.
Uses & Indications.
Promoting Healing
Increasing Bone Density
Ailments & Concerns.
Menopause
Bone Fractures
Osteoporosis