Bio-Dophilus (90 capsules) - American Biologics - Complete Digestion Aid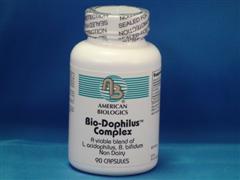 ---
Ingredients & Description
Bio-Dophilus Complex is designed to supply and increase healthy flora in the GI tract. Lactobacillus acidophilus, colonizes in the small intestine, whereas Bifidobacterium colonizes in the large intestine. These colonies of friendly bacteria have an interdependent relationship with fatty acid chains in the gut and promote absorption of B vitamins and other nutrients. They aid in the more complete digestion of lactose and help balance intestinal gut flora. Refrigeration recommended
Supplement Facts
Bio-Dophilus Complex
Each capsule contains:
APS
%DV
Bifidobacterium bifidum
1.25 billion
n/a
Lactobacillus acidophilus DDS-1 strain
1.25 billion
n/a
Other ingredients: Magnesium stearate, herbal stabilizers (may appear as dark specs).
Free of: yeast, wheat, corn, soy, egg, gluten, rice, starch, salt, preservatives, artificial colors, flavors, hormones or antibiotics.
*These statements have not been evaluated by the Food and Drug Administration. This product is not intended to diagnose, treat, cure or prevent any disease.
Jarro-Dophilus Enhanced Probiotic System (EPS) s the best probiotic to promote healthy intestinal microflora and support immune function.
SKU: 51009
UPC: 690290510091
Distributed or manufactured from American Biologics. See more
American Biologics
products.
---
Questions and answers:
Asked on: May 30, 2013
Question: Does all Lactobacillus acidophilus supported by DDS-1?


0

0

A: DDS-1 is a unique strain of L. acidophilus discovered by Dr. Khem Shahani in 1959 after studying and comparing the properties of numerous strains of L. acidophilus. Dr. Shahani's work at the university of Nebraska in the Department of Dairy Science, over a period of 40 years, addressed the most critical issues: stability, viability and bioactivity of the cells, resistance to digestive acidity, antibiotic-like and other probiotic aspects, and above all successful implantation in the digestive system. In addition, he developed an unsurpassed, proprietary stabilization process to protect the beneficial bacteria during manufacture, packaging and distribution. Dr. Shahani named this particular strain of Lactobacillus acidophilus "DDS-1," for the Department of Dairy Science Number 1 strain. During the subsequent 40 years of research he spearheaded at the University of Nebraska, Dr. Shahani published over 200 scientific papers in peer-reviewed journals. Dozens of these articles document the numerous beneficial properties of this important strain. Dr. Shahani was internationally recognized for his pioneering work, receiving top scientific and industry awards, and received U.S. Patent #3,689,840 on his method of isolating an antibiotic-like substance from the DDS-1 strain, which he named "acidophilin." The DDS-1 strain of L. acidophilus is currently distributed worldwide. However, Dr. Shahani's manufacturing and stabilizing techniques are exclusive to him and the company he founded, Nebraska Cultures, Inc. Only Nebraska Cultures produces the DDS-1 strain of L. acidophilus according to Dr. Shahani's rigorous manufacturing and quality-control standards. As is customary for such scientific discoveries, L. acidophilus DDS-1 was placed into the public domain. The original culture is on deposit at the USDA Agricultural Research Service (ARS) Culture Collection, previously known as NRRL, with the identification number B-3208. Because it is available to the public, it is not possible to register a trademark on the name of this strain in the United States of America. Nebraska Cultures supplies Dr. Shahani's® DDS-1 strain of L. acidophilus. Nebraska Cultures' customers may identity this strain on their product labels and advertising, subject to guidelines furnished by Nebraska Cultures, Inc. If it's not Dr. Shahani's®, it's not the original superstrain discovered, developed and manufactured according to Dr. Shahani's proprietary methods. Vote down - Vote up