Best Acetyl L-Carnitine - Doctor's Best - Sigma Tau Carnitine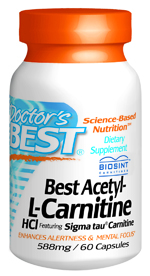 ---
Ingredients & Description
Best Acetyl-L-Carnitine consists of Biosint™ Acetyl-L-Carnitine, which is manufactured in Italy by the Sigma Tau company. It is derived from a base of pharmaceutical-grade L-Carnitine manufactured using an FDA-approved process that fully complies with international monograph standards for carnitine production. Known as a global leader in L-Carnitine research, Sigma Tau holds numerous patents for production of L-Carnitine, and its L-Carnitine derivatives, such as ALC, which are used in clinical trials.
Acetyl-L-Carnitine (ALC) is a naturally occurring form of L-Carnitine, a vitamin-like nutrient synthesized in the body from the amino acids lysine and methionine. ALC serves as a transport molecule for "active acetate," which is a source of fuel for metabolic processes that take place in cells. ALC carries active acetate (the "Acetyl" portion) directly into the mitochondrion, the cell's energy-generating structure. Active acetate is used to produce cellular energy in the form of ATP. Both L-Carnitine and ALC serve as fat carriers. Unlike L-Carnitine, ALC readily crosses the blood-brain barrier, where it has specific benefits for brain neurons. When taken orally, ALC has been shown to increase ALC levels in both blood and cerebrospinal fluid, demonstrating its uptake in the brain.
Benefits:
Keeps nerves healthy and in repair*
Enhances Alertness & Mental Focus*
Supports energy metabolism in the brain*
Decreases free radical production in the brain*
Supports cognitive function*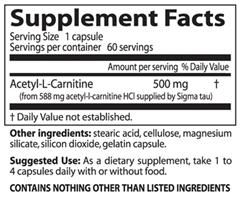 SKU: DRB-00105
UPC: 753950001053
Distributed or manufactured from Doctor's Best. See more
Doctor's Best
products.