Axis-HT (120 ct) - BSN - Pro-Testosterone Amplifier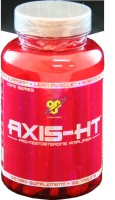 ---
Ingredients & Description
AXIS-HT is BSN's multi-dimensional natural testosterone amplifying formula. Testosterone in and of itself is the male sex hormone responsible for controlling the rate of muscle repair and aggression. It's important to know that AXIS-HT is not a hormone. Rather, it's a supplement that simply signals the body to maximize its own natural testosterone production, providing you all the benefits of elevated testosterone levels.* AXIS-HT also helps prevent overtraining and even contains a special combination of minerals that will allow you to sleep better.* Remember, it's when you sleep that testosterone and growth hormone release are maximized. Don't be average, be hardcore! Maximize your gains in and out of the gym.*
Suggested Use:
As a dietary supplement, take 2 tablets 3 times per day, everyday. Take the first dose in the morning with breakfast, the second with lunch, and the third at night with your last meal. AXIS-HTÃÂ works synergistically with protein and carbohydrates to help promote muscle anabolism. It is therefore highly recommended that you take AXIS-HTÃÂ with a protein and carbohydrate-rich meal or shake.
IMPORTANT: Use AXIS-HTÃÂ for at least 6 weeks in order to fully maximize its anabolic-androgenic potential. Do not exceed 12 weeks of continuous use.
NOTE: If a reduction in androgenic effects is desired, cut dosage in half.
Supplement Facts
Atro-Phex
Serving Size:2 tablets
APS
%DV
Magnesium
150mg
38%
Zinc
10mg
67%
StAR-P2 Androgenic-Anabolic Testosterone Matrix
2238mg
Inositol Hexaphosphate
TSP3 (3 Fraction Tribulus Terrestris compoosite yielding a prescision ratio of Protodioscin and Saponin concentrations)
GF5 (Proteinaceous Avian Nucleus Extract containing naturally occurring growth factors: IGF, FGF, NGF, EPF, GTCP)
Safed Musli
Eurycoma Longifolia
Coleus Forskohii
Based on a 2,000 Calorie Diet
Other Ingredients:Microcrystalline Cellulose, Stearic Acid, Magnesium Stearate, Hydroxypropyl Methyl Cellulose, Silica, and Triacetin.
Warnings:
Manufactured on equipment which processes products containing milk, egg, soybeans, shellfish, fish, tree nuts and peanuts.
Before consuming AXIS-HTÃÂ seek advice from a health care practitioner if you are unaware of your current health condition or have any pre-existing medical condition including but not limited to: high or low blood pressure, cardiac arrhythmia, stroke, heart, liver, or thyroid disease, anxiety, depression, seizure disorder, psychiatric disease, diabetes, pernicious anemia, difficulty urinating due to prostate enlargement, or if you are taking an MAO inhibitor or any other medication. Do not use if you are pregnant, nursing, prone to dehydration, or exposed to excessive heat. Reduce or discontinue use if sleeplessness, tremors, dizziness, nervousness, headaches, or heart palpitations occur. AXIS-HTÃÂ is only intended to be consumed by healthy male adults 18 years of age and older. After 12 weeks of use, discontinue for at least 4 weeks. Keep out of reach of children and pets
SKU: BSNIAXIS00600000CP
UPC: 834266003051
Distributed or manufactured from BSN. See more
BSN
products.