Ashwagandha Lemon Flavor Liquid Extract -Planetary Formulas- Ayurvedic Adaptogen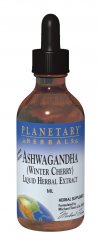 ---
Ingredients & Description
Ashwagandha (Withania somnifera) is one of the most highly respected botanicals in the 5,000-year-old Ayurvedic herbal tradition of India. Classified as a rejuvenative tonic ("rasayana") in the Ayurvedic system, it is widely used in modern Western herbalism as an adaptogen - a substance that can help our bodies healthfully adapt to physiological and psychological stress, thus increasing our resistance to stressors.Planetary Formulas Ashwagandha Liquid Extract is prepared from premium ashwagandha root, organically grown and processed in accordance with the California Organic Foods Act of 1990.
A History of Traditional Use
Ashwagandha has been traditionally used throughout India for thousands of years as a rejuvenating tonic, and has been included in the writings of many Ayurvedic scholars. It was widely used to support vitality in people of all ages, including children, and to enhance reproductive function in both men and women. In one text it was stated that ashwagandha, taken with a liquid, promotes physical development and vigor "as rains do for younger crops."
Adaptogenic Effects
In modern times, ashwagandha has been researched for its adaptogenic properties. Adaptogens are defined as substances that enhance general adaptive response. Research suggests their mechanism of action includes modulation of the pituitary-adrenal gland axis. Adaptogens increase resistance against external stressors, have a balancing effect and stabilize normal body functions.Ashwagandha has been shown to increase stress resistance, improve memory-related performance, and protect against stress-induced responses such as anxiety, and physiological imbalances, according to numerous animal studies and several human studies. Well-controlled clinical studies are needed to further confirm ashwagandhas benefits for humans.
Biochemistry
The key constituents of ashwagandha are alkaloids and a group of steroidal lactones known as withanolides.
Suggested use: 100 drops (1/2 teaspoon) twice daily. May be mixed with water or juice.
Other Ingredients: grain alcohol (50%), purified water, vegetable glycerine, natural lemon flavor.Warning: If you are pregnant, may become pregnant, or breastfeeding, consult your health care professional before using this product. Do not use if either tamper-evident seal is broken or missing. Keep out of the reach of children.
Planetary Herbals offers the best of classic herbal traditions, from Ayurvedic and traditional Chinese herbalism to the experience of Western herbal practitioners. Utilizing the knowledge of more than 30 years clinical experience, professional herbalists such as Michael Tierra, Lesley Tierra, Jill Stansbury, and Alan Tillotson, Planetary Herbals is committed to ensuring that our time-tested herbal traditions continue to evolve, grow, and flourish.
SKU: PF0320
UPC: 021078103202
Distributed or manufactured from Planetary Herbals. See more
Planetary Herbals
products.