Artichoke Extract -Planetary Formulas- Liver Health and Cholesterol Wellness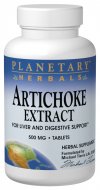 ---
Ingredients & Description
Not only have artichokes been a longtime part of a wholesome Mediterranean diet, but their uses for digestive support and liver health have been documented since the time of the Roman Empire in the 4th century B.C.. Recently, scientists began documenting the scientific benefits derived from artichokes. Researchers discovered that compounds such as cynarin and chlorogenic acids extracted from artichokes effectively stimulated bile production, which helps to stimulate healthy digestion, relieve occasional indigestion, increase fat metabolism, support liver health, improve gallbladder function and promote cholesterol wellness.
Planetary Formulas, introduces Artichoke Extract for digestive comfort and liver support. Artichoke Extract is standardized to 5% cynarin and 15% chlorogenic acids for assured consistency and potency of these important compounds. Beneficial Compounds in Artichokes Traditionally, artichoke globes and their leaf extracts have been used to promote digestive health. But it is the leaves that contain the highest concentration of beneficial antioxidant polyphenolic compounds such as cynarin, luteolin and chlorogenic acids. Cynarin is what gives artichokes their pleasant bitter taste and was originally believed to be the only active component of Artichoke Extracts. However, researchers have discovered that the dried extract of the complete leaf is more potent than extracts containing just cynarin.
Planetary Formulas Artichoke Extract contains 500 mg of Artichoke Extract, standardized to 5% cynarin and 15% chlorogenic acids, to insure consistency and maximum potency.
Digestive Health, Gallbladder Support, Fat Digestion and Fat Metabolism
Suggested use: 1 tablet daily with a meal.
Supplement Facts for 500 mg TabletServing Size: 1 Tablet Amount % DVCalcium 51 mg 4% Artichoke Leaf & Root Extract (standardized to 5% cynarin & 15% chlorogenic acids)500 mg
Other Ingredients: dibasic calcium phosphate, stearic acid, modified cellulose gum, colloidal silicon dioxide.Warning: Do not take this product if you have gallstones or a bile duct obstruction, or if you are allergic to ragweed, chrysanthemums, marigolds or daisies.If you are pregnant or breastfeeding, consult your health care professional before using this product.STORE IN A COOL, DRY PLACE.Keep out of reach of children.Suggested Use: 1 tablet daily with a meal.
Planetary Herbals offers the best of classic herbal traditions, from Ayurvedic and traditional Chinese herbalism to the experience of Western herbal practitioners. Utilizing the knowledge of more than 30 years clinical experience, professional herbalists such as Michael Tierra, Lesley Tierra, Jill Stansbury, and Alan Tillotson, Planetary Herbals is committed to ensuring that our time-tested herbal traditions continue to evolve, grow, and flourish.
Celery Seed Extract is widely used as an effective diuretic, as well as a dietary supplement to help improve circulation and heart health.
SKU: PF0539
UPC: 021078105398
Distributed or manufactured from Planetary Herbals. See more
Planetary Herbals
products.