Arth-X Plus - 522 mg Glucosamine Sulfate (90 Tabs) - Trace Minerals Research - Vitamins for Sore Joints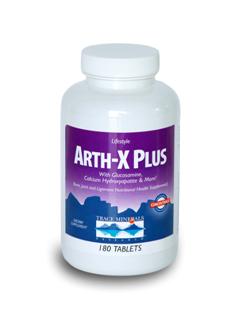 ---
Ingredients & Description
A powerhouse of herbs, minerals and nutrients uniquely synergized with ConcenTrace Trace Minerals
Vegetarian Arth-X is one of the best selling vegetarian bone and joint nutritional support supplements in the industry. No other bone and joint supplement contains all of the minerals and trace minerals of Arth-X.
Arth-X provides magnesium, boron, full spectrum minerals and trace minerals, combined with calcium and a whole array of herbs and enzymes, to help increase joint mobility and functionality while decreasing joint discomfort and stiffness.
Arth-X Plus is a newer, more advanced formula with the same basic formula of Arth-X, but it contains glucosamine sulfate and calcium hydroxyapatite for the most complete bone and joint health supplement available today.
Suggested Use:Take 3 tablets twice daily. When desired, use 2-4 tablets daily for maintenance or use with one of our liquid nutritional bone and joint supplements.
Supplement Facts
Arth-X PLUS
Serving Size:6 tablets
APS
%DV
Calories
5
Total Carbohydrates
2 g
<1%
Dietary Fiber
1 g
0.04
Vitamin B-2 (Riboflavin)
10 mg
5.88
Vitamin B-6 (Pyridoxine HCl)
45 mg
22.5
Vitamin B-12 (Cyanocobalmin)
150 mcg
25
Pantothenic Acid (d-Calcium Pantothenate)
40 mg
4
Calcium (Calcium Hydroxyapatite & Alfalfa)
382 mg
0.38
Magnesium (from ConcenTrace® & Alfalfa)
336 mg
0.84
Chloride
1110 mg
0.33
Sodium
61 mg
0.03
Potassium
85 mg
0.03
Herbal Blend
2340 mg
**
Alfalfa Leaf, Yucca, DevilÃÂs Claw, Burdock Root, Mexican Sarsaparilla Root, Hydrangea, Red Clover, Capsicum, Horsetail (whole and concentrate) and Celery Seed Extract.
Low-Sodium ConcenTrace®
3/4 tsp.
**
All the minerals from ¾ tsp (3.7 ml) low-sodium ConcenTrace®, concentrated and dehydrated from UtahÃÂs Inland Sea, the Great Salt Lake (equivalent to the content of 6 oz. sea water, 99% sodium removed).
Glucosamine Sulfate Complex
522 mg
**
Sulfate (Gluco. Sulfate, ConcenTrace®, Calcium Sulfate)
149 mg
**
Enzyme Complex
81 mg
**
126 GDU Units of Bromelain concentrate, plus the following natural source enzymes: Amylase, Protease, Lipase, Cellulase.
Boron (Amino Acid Chelate, ConcenTrace®)
2 mg
**
*Daily Value (DV) based on a 2,000 calorie diet. **Daily Value not established.
Additional Ingredients: Vegetable cellulose, modified cellulose gum, vegetable stearic acid and calcium stearate. No added sugar or starch. No artificial preservatives, dicalcium phosphate or fillers. Ingredients are listed in approximate descending order. Also includes over 70 ionic trace minerals and elements found in seawater. ConcenTrace® is a trade name for concentrated sea minerals from the Great Salt Lake.
Allergen Info: contains no known allergens.
Celery Seed Extract is widely used as an effective diuretic, as well as a dietary supplement to help improve circulation and heart health.
SKU: AXP02
UPC: 878941000324
Distributed or manufactured from Trace Mineral Research. See more
Trace Mineral Research
products.