Antioxidant Cellular Support System by Pure Essence Labs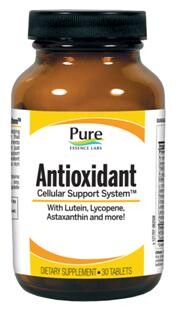 ---
Ingredients & Description
It is well established that modest levels of many antioxidants are superior to mega-doses of just a few. Antioxidant Cellular Support System™ provides the most complete array of antioxidant factors you'll find anywhere.
N-Acetyl-Cysteine - Supports the detoxification pathways of the liver & kidneys.
Quercetin - Demonstrates significant anti-inflammatory properties. Supports healthy liver and kidney function.
Trimethylglycine (TMG) (Also known as Betaine) - Aids in the production of several brain chemicals which improve mood, energy, well-being, alertness, concentration, and visual clarity. Provides anti-oxidant protection to liver cells.
R- Alpha Lipoic Acid - R-Alpha Lipoic acid is, on average, twice as potent as synthetic Alpha Lipoic Acid. Helps recharge other antioxidants including CoQ10, Vitamins C & E, and glutathione. Helps support healthy blood sugar levels in the normal range. Both fat and water soluble, enabling R-Alpha Lipoic Acid to deliver it's anti-oxidant properties virtually anywhere in the body.
High ORAC Fruit Complex - (Mangosteen, Strawberries, Blueberries, Blackberries, Cranberries, Grape Extract & Pomegranate) Provides a wide array of anti-oxidant protection for the joints, brain, skin, eyes, immune & cardiovascular systems.
Detoxification & Inflammation Support (MSM, Turmeric, Milk Thistle, Andrographis, Oregon Grape & Japanese Knotweed) - A unique blend designed to provide anti-oxidant support to the liver as well as provide anti-inflammatory support for the body.
Antioxidant-Rich Superior Tonics (Cordyceps, Rhodiola Crenulata, Foti Root, Lycium Fruit & Reishi) - These antioxidant herbs strengthen, invigorate or restore at least one of our body's major organ systems and help build the body's vital energies.
Green Super Food Blend (Organic Spirulina, Organic Barley/Oat Grass Juice & Chlorophyll) - Contains many antioxidants, enzymes, EFA's, phytonutrients, protein, and co-factors vital for immune function, detoxification and energy production.
Gamma Oryzanol - An anti-oxidant that supports healthy cholesterol levels in the normal range.
Rosemary Leaf - Anti-oxidant protection for the cells of the liver.
Lutein & Zeaxanthin - Protects the macular region of the eye from oxidative stress.
Lycopene - Supports the prostate, cardiovascular system, healthy vision, and provides anti-oxidant protection for the skin.
Astaxanthin - Able to cross the blood-brain barrier and provide anti-oxidant support to the brain and other areas of the body.
L- Carnosine - An Amino Acid known for providing anti-oxidant protection for the brain, heart, skin, muscles, kidneys and stomach.
Bilberry - Phenolic compounds contain powerful anti-oxidants that support the macular region of the eye.
Grape Seed Extract - Contains powerful polyphenols called proanthocyanidins for the support of our skin and heart and helps maintain healthy blood pressure and cholesterol levels.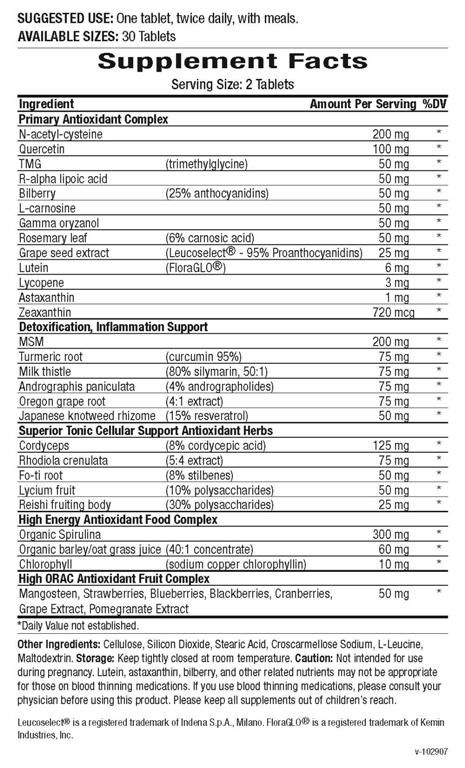 SKU: 28011
UPC: 659670280115
Distributed or manufactured from Pure Essence Labs. See more
Pure Essence Labs
products.
---
*Not intended to diagnose or treat diseases or ailments, and is not reviewed by the FDA.
Uses & Indications.
Controlling Inflammation
Promoting Detoxification
Fighting Free Radicals
Supporting Healthy Liver And Kidney Function
Ailments & Concerns.
Free Radicals
Cancer
Aging