Angiostop (120 caps)* | Chi's Enterprise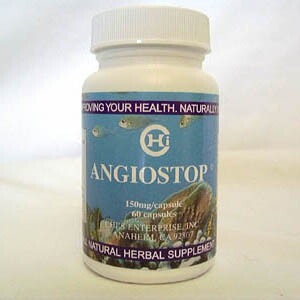 Choose different size or options :
---
Ingredients & Description
The active ingredient in Angiostop, Philinopside A, is extracted from a special sea cucumber in the South China seas. These sea cucumbers are known to be rich in polysaccharides and lactones. For centuries, sea cucumbers have been considered an integral part in Chinese folk medicine, primarily used as a treatment for stomach ulcers and cancer. Now, in vitro and in vivo tests have assessed its two-fold function as an angiogenesis inhibitor and as a RTK inhibitor.ÃÂ Suggested Usage: 2 - 3 capsules, 2 - 3 times per day after meals.