Anator P70 Berry (3.3lb) - MuscleTech - Activates Muscle Growth Signals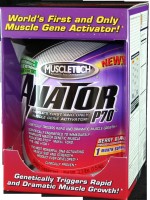 ---
Ingredients & Description
Anator-P70 is clinically proven and so devastatingly powerful it literally turns on your DNA for muscle growth, allowing you to maximize your genetic potential in order for you to increase muscle mass and size to the fullest extent of your natural ability. Anator-P70 activates the key signaling cascades consisting of mTOR, PKB, and P70S6K, which ultimately lead to faster muscle growth you just can't get with any other bodybuilding supplement. With Anator-P70, you can now maximally activate your genetics for massive muscle growth! Anator-P70 force-feeds signals to your genes, turning on the muscle building process, and at the same time, this same supplement controls FOXO and turns off MAFbx. These are the genetic regulators that prevent muscle growth! This is not hype. This is proven, irrefutable, scientific fact. Anator-P70 works immediately, the first time, every time. Anator-P70 is the most exciting development in the science of muscle growth ever recorded! Anator-P70 is the result of over five years and over a million dollars in research at the University of Nottingham by Team MuscleTech and the leading authority on muscle metabolism research, Dr. Paul Greenhaff.
Suggested Use:
Take 1 serving immediately after your workout. This bottle provides a 1- month supply if you work out 4 times per week. Mix 1 serving (2 scoops) of Anator-p 70 with 12 oz. to 16 oz. of cold water in a shaker cup. For best results, use for at least 8 weeks
Supplement Facts:
Serving Size 2 Scoops (93g) Calories 320 Calories from Fat 10 Total Fat 1g 2% Saturated Fat 0.5g 3% Trans Fat 0g Cholesterol 10mg 3% Total Carbohydrate 57g 19% Sugars 28.5g Protein 20g 40% Calcium 65mg 7% Iron 0.7mg 4% Sodium 60mg 3% PhenylGene 7.2g LeuciGene 7.2g GeneTor 5g Based on a 2,000 Calorie Diet
Other Ingredients:
ANA-DRIVE (SPRAY-DRIED AND ENZYMATICALLY CONVERTED MALTODEXTRIN, PHARMACEUTICAL-GRADE DEXTROSE), PARTIALLY HYDROLYZED WHEY PROTEIN CONCENTRATE** (PROVIDING DI-, TRI- OLIGO-, AND POLYPEPTIDES), NATURAL AND ARTIFICIAL FLAVORS, CITRIC ACID, ANTIFOAM, ASPARTA
SKU: MSCTANAT03.3BERRPW
UPC: 631656700046
Distributed or manufactured from MuscleTech. See more
MuscleTech
products.