Anabolic Vitakic (150 caplets) - MuscleTech - The Bodybuilder's Multi-Vitamin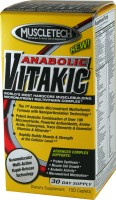 ---
Ingredients & Description
You already know that taking a multivitamin every day is a smart choice. That's why Anabolic VITAKIC is designed to deliver a cutting-edge micronutrient multivitamin complex specifically for hard-training bodybuilders. This complex includes multiple key micronutrients that protect cells from the damage caused by unstable molecules known as free radicals, making it extremely beneficial to bodybuilders. In addition, Anabolic VITAKIC is dosed with a key musclebuilding compound, forging the foundation for explosive muscle growth!
Suggested Use:
Supplement Facts:
Serving Size 5 rapid release caplets Servings Per Container 30 Vitamin A (as 51% beta-carotene and 49% acetate) 9900IU 198% Vitamin C (as ascorbic acid and calcium ascorbate) 500mg 833% Vitamin D ( as cholecalciferol) 700IU 175% Vitamin E ( as alpha-tocopheryl acetate) 200IU 667% Vitamin K (as phytonadione) 80mcg 100% Thiamin (as mononitrate) 78mg 5200% Riboflavin 78mg 4588% Niacin (as niacinamide) 82mg 410% Vitamin B6 (as pryidoxine hydrochloride) 100mg 5000% Folic Acid 400mcg 100% Vitamin B12 ( as cyanocobalamin) 100mcg 1666% Biotin 400mcg 133% Pantothenic acid 78mg 780% Calcium 250mg 25% Iron 18mg 100% Iodine 150mcg 100% Magnesium 150mg 38% Zinc 25mg 167% Selenium 300mcg 429% Copper 3mg 150% Manganese 5mg 250% Chromium 150mcg 125% Potassium 210mg 6% Acti Cell Proprietary Blend (Featuring Nano-Diffuse Technology) 2859mg Anabolic Catalyst Creatine Monohydrate Alpha Lipoic Acid L-Glutamine Beta Alanine Polygonum cuspidatum extract (root) Standardized for 20% resveratrol L-Arginine Creatine-6, 8-thioctic acid-ketoisocaproic acid calcium L-alpha glyceryl phosphoryl choline Idebenone L-Carnosine L-arginine ketoisocaproate calcium L-alanyl l-glutamine Vita-Muscle D-myo inositol Ginkgo biloba extrage (leaf) Mulberry extract L-glutamic acid HCL Para-amino benzoic acid Shark cartlilage Betaine HCL Papain Green tea extract Sunflower Oil Vitis vinifera extract Wheatgrass powder Yerba mate powder White willow extract Choline bitartrate Lycopene Theobroma cacao extract Coffea arabica extract Haematococcus pluvialis extract (standardized for 1.35% astaxanthin) Black tea extract White tea extract Calcium alpha-ketoisocaproic acid Dill Extract Ginger extract Blueberry extract Bilberry extract Blackberry extract Acai extract Reishi mushroom powder Griffonia simplicifolia extract Shiitake muschroom powder Cordyceps sinensis extract Agaricus blazei I murril extract Coenzyme Q10 Phosphatidycholine Pepsin Pancreatin Lutein Zeaxanthin Pyridozine alpha-ketoglutarate HCL Astragalus extract Eleuthero extract Ginseng extract Han Fang Ji extract Epimedium extract Echinacea extract Dong quai extract Essential Growth L-Leucine L-Lysine HCL Taurine L-Valine L-Phenylalanine L-Threonine L-Arginine HCL L-Tyrosine Inosine anhydrous Taurine alpha-ketoisocaproic acid L-Methionine L-Isoleucine L-Histidine L-Ornithine HCL N-Acetyl L-Cysteine Trans-ferulic acid Myricetin Phosphatidylserine enriched soy lecithin * Percent Daily Values are based on a 2,000 calorie diet ** Daily Value not established.
Other Ingredients:
You have reached Anabolic Vitakic on Seacoast.com from the manufacturer MuscleTech. We're proud to have served 2047 customers since 02/16/2010 who were also interested in purchasing Anabolic Vitakic. It currently ranks as our 11 most popular natural health product.
Technical Anabolic Vitakic Details: Locate this product using sku number or ISBN . For shipping, the weight is equal to 0.25 pounds and is currently out of stock. Typical inquiries include The Bodybuilder's Multi-Vitamin, and natural health. Seacoast Vitamins offers this product at a $7.24 discount off of the suggested retail price $47.9900. Our price is $40.75.
SKU: MSCTVITA0150000TB
UPC: 631656601664
Distributed or manufactured from MuscleTech. See more
MuscleTech
products.