Amino Fuel Liquid (32 oz) - Twinlab - Anabolic Liquid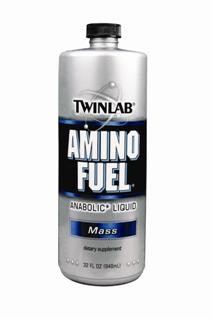 ---
Ingredients & Description
A fast acting, easily digested liquid concentrate providing L-carnitine, branched chain amino acids (L-leucine, L-isoleucine and L-valine) and pharmaceutical grade, peptide bonded and free amino acids. Plus stress B-complex vitamins, lipotropic factors choline and inositol and a rich source of energizing complex carbohydrates (glucose polymers) and pure crystalline fructose. Each serving provides a concentrated 15 grams of high quality peptide bonded and free amino acids derived from the natural pancreatic digests of whey protein (lactalbumin), egg protein (albumin), liver protein and other animal proteins. One serving is equivalent to 15 one-gram peptide bonded amino acid tablets or capsules.
Suggested use:
As a quick acting easily digested amino acid dietary supplement take three tablespoonfuls daily, or as recommended by a professional trainer. Amino fuel may be taken with meals, between meals, as an anabolic aid before workouts, or after physical activity. for best results, use as part of a low fat diet and exercise program.
Supplement Facts
Amino Fuel Liquid
Serving Size:3 Tablespoons (45 ml)
APS
%DV
Calories
120
Total Carbohydrate
14 g
5%**
Sugars
10 g
Protein
15 g
30%**
Thiamin
2.5 mg
167%
Riboflavin
2.5 mg
147%
Niacin
30 mg
150%
Vitamin B6
4 mg
200%
Folate
100 mcg
25%
Vitamin B12
12 mcg
200%
Biotin
10 mcg
3%
Pantothenic Acid
30 mg
300%
Sodium
40 mg
2%**
Choline Bitartrate
100 mg
Daily Value (DV) not established
**Percent Daily Values (DV) are based on a 2,000 calorie diet.
Typical Amino Acid Profile Per Serving
Essential Amino Acids
Non-Essential Amino Acid
L-Leucine (BCAA)
L-Arginine
L-Isoleucine (BCAA)
L-Cystine
L-Valine (BCAA)
L-Alanine
L-Lysine
L-Aspartic Acid
L-Threonine
L-Glutamic Acid
L-Methionine
Glycine
L-Phenylalanine
L-Histidine
L-Tryptophan¹
L-Proline
L-Serine
L-Tyrosine
Other Ingredients:
Purified Water, Hydrolyzed Gelatin, fructose, whey protein isolate (from milk) propylene glycol, citric acid, maltodextrin, egg white hydrolysate, defoamer, cellulose, inositol, choline bitartrate, orange flavor, sorbic acid, sodium benzoate, methylparaben, D-Calcium pantothenate,. niacinamide,L-Carnitine, propylparaben, cyanocobalamin, pyridoxine hydrochloride, riboflavin, 5 phosphate sodium, thiamin hydrochloride, para aminobenzoic acid, biotin, folic acid.
Also available as: Amino Fuel® 2000 Tablets / Amino Fuel® Liquid - Original / Amino Fuel® Liquid - Natural
Warnings:
Notice: Use this product as a food supplement only. Do not use for weight reduction. Do not use if pregnant or nursing. Consult a health care professional before use if you are taking any medication or have any medical condition. Not recommend for use by individuals under the age of 18 without parental permission Keep out of reach of children. Shake well before use.
SKU: TW0195
UPC: 27434016049
Distributed or manufactured from TwinLab. See more
TwinLab
products.