Alpha Amino Prototype-216 (120 caps) - MuscleTech - Next Generation Super-Amino Muscle Growth Accelerant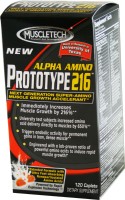 ---
Ingredients & Description
Utilizing state-of-the-art complexes and ultra-fast nanoparticulation technology, Alpha Amino Prototype 216 supplies your muscles with a precisely dosed amount of nanoparticulated aminos, essential aminos, conditionally essential aminos and precision ratio branched chain aminos (BCAAs) needed to build a massive amount of rock-hard muscle. It's this mega-dosed and exclusive blend of amino acids that has made Alpha Amino Prototype 216 undeniably the most advanced super-amino muscle growth accelerant ever formulated!
Suggested Use:
Take 1 serving (6 caplets) of Prototype 216. Take 15 minutes before your workout with your favorite sports drink. Read the entire label before use and follow directions provided.
Supplement Facts:
Serving Size 6 caplets Servings Per Container 20 Alpha Amino Prototype 216 (Featuring Nano-Diffuse Technology) 8050mg MyoExpand (Super Concentrated Amino Acid Complex) L-Lysine HCL Taurine L-Phenylalanine L-Threonine L-Glutamine L-Methionine L-Arginine L-Arginine AKG L-Arginine, KIC (Alpha-Ketoisocaproic Acid Calcium) L-Lysine, AKG L-Phenylalanine, AKG L-Threonine, AKG N-Acetyl L-Methionine L-Proline N-Acetyl Tyrosine Taurine AKG L-Glutamine AKG L-Alanyl L-Glutamine Chain Reaction (Precision Ratio Branched Chain Matrix) L-Leucine L-Valine L-Isoleucine L-Isoleucine Pyroglutamate L-Leucine AKG L-Valine AKG L-Norvaline L-Leucine Pyroglutamate ErgoForce (Max-Strength Delivery Amplifier) Betaine Anhydrous L-Histidine Spinacia Oleracea Extract (Leaf) Standardized For 10% 20-Hydroxyecdysterone GBB HCl (Gamma-Butyrobetaine HCl) Betaine HCL Beta Alanine L-Carnosine Bitter Melone Extract (as momordica charantia) (fruit) Ligusticum Wallichii Extract (stem and root) AlphaDrive (Next Gen Alpha-Keto Amino Fusion) HICA (Alpha-Hydroxyisocaproic Acid) HIVA (Alpha-Hydroxyisovaleric Acid) HIMVA (Alpha-Hydroxymethylvaleric Acid) KIC (Alpha-Ketoisocaproate Calcium) KIVA (Alpha-Ketoisovalerate Sodium) KMVA (Alpha-Keto-Beta-Methylvalerate Sodium) GABA (Gamma-Amino Butyric Acid) Alpha-Amino N-Butyrate Daily Value not established
Other Ingredients:
Microcrystalline Cellulose, Hydroxypropylcellulose, Magnesium Stearate, Coating (Polyvinyl Alcohol, Polyethylene Glycol, FD&C Yellow No. 6, Talc, Titanium Dioxide), Stearic Acid, Silicon Dioxide, Carboxymethylcellulose, Crospovidone, Acesulfame Potassium
You have reached Alpha Amino Prototype-216 on Seacoast.com from the manufacturer MuscleTech. We're proud to have served 1614 customers since 02/16/2010 who were also interested in purchasing Alpha Amino Prototype-216. It currently ranks as our 15 most popular natural health product.
Technical Alpha Amino Prototype-216 Details: Locate this product using sku number or ISBN . For shipping, the weight is equal to 0.00 pounds and is currently out of stock. Typical inquiries include Next Generation Super-Amino Muscle Growth Accelerant, and natural health. Seacoast Vitamins offers this product at a $9.04 discount off of the suggested retail price $59.9900. Our price is $50.95.
SKU: MSCTPROT01200000CP
UPC: 631656601879
Distributed or manufactured from MuscleTech. See more
MuscleTech
products.