6 OXO | Ergopharm | 60 caps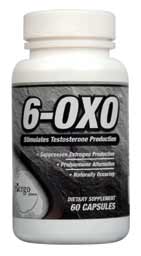 ---
Ingredients & Description
Hormones play an important role in physique and people have been attempting to influence physical appearance, strength, muscle building, and more for years with supplements that alter the hormone balance in their bodies. While effective, some of the hormone treatments that have been used in the past have proven to cause some dangerous an unwanted side effects. Some of these dangerous side effects associated, specifically, with prohormones are testicular atrophy, adverse blood lipid (cholesterol) changes, and liver dysfunction. Ergopharm is now offering a new supplement that manipulates the body's hormone balance in a safe and natural way. 6 OXO, which stands for 3,6,17-androstenetrione, is an aromatase inhibitor that both reduces estrogen in the body and stimulates the production of testosterone. It is a supplement for males that very effectively and safely promotes increased testosterone levels and decreased estrogen levels. 6 OXO binds to the aromatase enzyme permanently and irreversibly, causing it to become inactive. This process induces a diminishment of the aromatase enzyme in the body and ultimately a reduction of estrogen levels in the body. 6 OXO also targets the hypothalamus in the brain to augment the chemical signal to the endocrine system to increase the production of testosterone. 6 OXO typically has been shown to cause a sustained increase in serum free testosterone levels of up to 126%. 6 OXO will not prevent the body from being able to produce estrogen levels permanently. Once use of 6 OXO has ceased, the body will still be able to catch up making aromatase enzymes and then estrogen very successfully. This all-natural supplement does not work in the same way as prohormones. It is safe, has no known, negative side effects and does not contain hormones. 6 OXO is an exciting new method for boosting testosterone that promises to stay available for a long time due to its efficacy and natural safety.
Testosterone
Testosterone is the key male hormone and is in the androgen group of hormones. Both men and women produce testosterone, but the male body produces 40-60 times more testosterone than the female body. It is necessary for the overall healthy function of men and serves several very specific purposes in health. Testosterone enhances libido and sexual function. It also has a marked impact on energy levels and sense of well-being and mood. Testosterone encourages the increased production of red blood cells and reduces the risk of osteoporosis. It also plays a principal part in muscle development and strength. Many men could find the benefits of increased testosterone when attempting to improve sexual libido or maximize strength training. Increased testosterone levels could also be beneficial when dealing with mood disorders or depression or fatigue and lack of energy. Testosterone is vital to the body's overall health and wellness.
Effects of Excess Estrogen in Males
There are a few specific problems that can plague males who have an excess of estrogen or whose estrogen levels are out of balance with androgen levels. In these cases, 6 OXO could be beneficial as a natural and safe treatment option to increase testosterone production and reduce estrogen levels. One problem that can sometimes accompany men whose estrogen levels are abnormally high is gynecomastia (male breasts). It is the growth of breast tissue in men and is usually just a cosmetic nuisance as most men desire to have firm pectoral muscles and do not want to appear to have breasts. However, in some rare cases, gynecomastia can become malignant and cause breast cancer in men. 6 OXO could help to diminish the high estrogen levels that contribute to this condition. Excessive estrogen levels can also cause water and sodium retention, which can result in a bloated, puffy, and smooth appearance all over the body.
One of the most undesired conditions associated with too much estrogen in the male body is atrophied testes. Estrogen sends a message to the hypothalamus in the brain to discontinue production of GnRH, which is a hormone that signals to the pituitary gland to produce luteinizing hormone (LH). Luteinizing hormone is the signal for the testicles to produce testosterone. Consequently, an excess of estrogen can suppress the proper signaling for adequate testosterone production in the body. 6 OXO works to inhibit aromatase enzymes that produce estrogen. Therefore, 6 OXO supports testosterone production and can be used to treat atrophied testes.
Other Instances to Use 6 OXO
There are a couple of very specific situations in which 6 OXO would be extremely beneficial other than those general uses already mentioned. The first situation is to decrease estrogen elevation while taking aromatizable prohormones or steroids. Aromatizable prohormones/steroids include testosterone, testosterone precursors (4-androstenedione, 4-androstenediol), nortestosterone, nortestosterone precursors (19-nor-4-androstenedione, 19-nor-4-androstenediol), and synthetic anabolic steroids such as oxymetholone (Anadrol) and methandrostenolone (Dianabol). The second situation to use 6 OXO is in restoring full endogenous testosterone production after a cycle of prohormones or steroids.
Enjoy the safe, all natural benefits of Ergopharm's 6 OXO for estrogen reduction and improved testosterone production. Always consult with your physician before taking any new medication or supplementation. Not recommended for people under the age of 21.
Benefits:
Binds and reduces estrogen levels
Aromatase inhibitor
Stimulates testosterone production
All natural
Safe
Effective
Supplement Facts

Serving Size: 3 capsules
Servings per Container: 20

| | Amount Per Serving | % Daily Value |
| --- | --- | --- |
| 6-OXO (4-etioallocholen-3, 6, 17-trione) | 300mg | * |
Natures Way Promeva, a unique natural supplement to help support healthy breast tissue. Promeva is Clinical Strength Breast Health Protection.
SKU: 33430
UPC: 733428000306
Distributed or manufactured from Ergopharm. See more
Ergopharm
products.